New Skin, Please
December 6, 2010
Growing up in Orange County, I was always surrounded by the same type of people: white. Being of Mexican-American and Guatemalan descent, I was constantly aware of my difference in ethnicity from others around me, even when others overlooked it. When I was younger, ignorance guarded me from stereotypes and allowed me to have a blithe and carefree attitude toward anything I couldn't have power over. However, as I grew up I exceedingly became aware of the prejudices often associated with being of Hispanic descent. In fifth grade, nearly every one of the kids in my class was white, and I began to notice. They didn't acknowledge our difference in color, but I did; I allowed my insecurities to make me feel inferior to my peers. Though no one has ever directly commented on the color of my skin or on my ethnic lineage in a negative manner; I became conscious of the labels that could potentially be put on me and I continued losing confidence in myself as a being. It now seems a silly thing to be worried over, especially knowing that I was friends with everyone in my small private school elementary class- yet it still saddens me to know that this misinterpretation of myself was a reality in my life as a child. I also felt that if people did not know me, they might think I did not try hard in school because Latin Americans are not generally distinguished as academically notable. I hated the barrier of feeling one step lower than everyone else because of something I could not control.
Finally in eighth grade and throughout high school I came to realize that I was influenced by these stereotypes because I put them on myself, not because anyone else ever put them on me. Though they at first made me feel unconfident and un-assured in myself, I later changed my perspective and wanted to show everyone that I am not a group listing who is in a set of identical persons, I am not hindered by the fact that I am different.
Knowing that I am Hispanic now encourages me to do even better in school; since I don't want a stereotype labeling Latinos as uneducated, then the best way to disarm that label is to break it down with my own accomplishments. Being diverse could have crippled me if I would have kept the same attitude I had as a child, however through my personal growth, I used it as a reason to succeed and mature. I have learned to see diversity as a good thing; a way to bring fresh and new perspective to the table. Since my diversity in ethnicity has allowed me to be motivated to do better as a student and an athlete. I have since middle school made it a goal to show that diversity is a good thing and rather than use it as an excuse to disintegrate, I will use it as a drive to improve.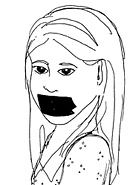 © Liza M., Vineland, NJ