Outsider
October 15, 2010
The most important thing I have learned in the last four years is that everything is a matter of perspective. Our experiences shape our views and our reactions. Experiences are highly dependent on our surroundings, so it follows that people in the same general area have similar perspectives. Being born in Brazil and then moving to a small suburb of Ohio has given me a chance to see life through varying perspectives and helped me grow as a leader and a person.
First, I see life through the eyes of a young Brazilian girl from a wealthy family. I get to see the closeness of the families in Brazil, and get to experience it for myself in my own family. I get to experience the beauty of a tropical place and the sadness of the poverty on the streets. I see a place that has grown so much but has so far to go, a place where the people are happier and more relaxed than any place I have ever seen, despite the oftentimes poor conditions.
Then I get to live the life of a child and teenager in the small town of Olmsted Falls, Ohio. I get to see the educational benefits, the narrow-mindedness, the safety, and the lack of diversity a small town has to offer. I get to see the difference between a country with wealth and a country without it.
Though I can see life through both of those perspectives, I don't belong to either of these groups. Besides living as a Brazilian and an American, I get to live the life of a permanent outsider. I do not belong in the town of Olmsted Falls, where my mother's customs are so different than that of our neighbors. I do not belong in Olmsted Falls where I am either black or white and Brazilian is not a valid answer of "what I am". I also do not belong in Brazil, where the customs are so different from America's that I can barely socialize and the streets are so sad it is impossible to leave the house without feeling helpless for not having enough to give to all the people who need it. I am an outsider in both places because I possess only some characteristics of both places.

Being an "outsider" has helped me to grow as a leader. I have no problem standing apart from the crowd and forging my own path. I have new ideas and can effectively implement them. I do not limit myself to what is expected, what has been done, and what most people will always do. I speak my mind and can organize my thoughts so that others can follow. Though I will always have my own ideas, I always welcome the ideas of others; the surest way to get a positive experience out of anything is to consider as many different ideas as possible.

Experiencing life in two completely different places has also caused me to be more open-minded. I withhold judgment until I see all sides of a situation and I recognize that being exposed to all sides of a situation is highly unlikely; therefore, I am usually cautious to form an opinion about anything or anyone before I know the full story. I am a big believer in cultural relativism and never assume something about a culture that I know nothing about.
I do not flatter myself that being an outsider is unique—far from it. I know that the world is full of people who will forever feel like they do not belong anywhere and it is okay. We do not have to "belong" anywhere. It is a human flaw that we need to feel that belonging because hardly anyone feels it; it is okay to be an outsider and it is sometimes preferable. Author Virginia Woolf once wrote, "And I thought how unpleasant it is to be locked out; and I thought how it is worse perhaps to be locked in." Woolf herself was always an outsider, and she was absolutely brilliant. Being on the outside gives one room to think, explore, and learn. Being on the inside might feel good for a while, but it is so limiting that no ephemeral warm feeling is worth it. Not belonging is the one part of my life experience that I value most. I don't need a group to identify with to identify myself and that is the most important step in self-discovery.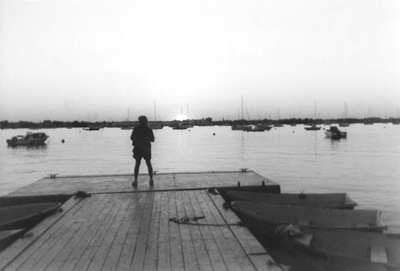 © Lindsey D., Marblehead, MA