Please help revise!
October 6, 2010
Sixth grade was a year of uncertainty and undeniable anxiety on my part. There was this new world ahead of me and I had no clue how to handle it. I hoped to create new friends and a new outlook. That is when I met her. I had no idea she would influence my life in such a way that it would change the way I view the world. She was small, Asian, unnaturally quiet and I hardly knew her, yet she is still one of few people I remember from my middle school career. Her name was Ngoc Diep, also known as Naomi. She dressed basically the same everyday and was like every other Asian girl I had ever met. She was nice, very shy, and, honestly, was quite the cute girl. However, there was one thing that stood out to me. She was the most amazing artist I had ever met up to that point. Her skill piqued my interest and ensnared me with its call of imaginative freedom. I was like Odysseus to the Siren's call, but there was no rope keeping me away from its sweet melody. And thus began my longstanding love of art.
My relationship with art would continue to be a long, and sometimes shaky, one. I started drawing doodles at first, baby steps, and realized I was not exactly proficient. I could barely be considered mildly decent. Still, I became consumed with becoming better and began to draw everyday, practicing and honing my skills. Everyday I would draw in notebooks my mother bought me, at least four to five drawings a day. I filled up notebook after notebook after notebook with my improvements and accomplishments and began to work with other mediums. I learned to move outside my comfort zone, to change up my mundane routine of graphite on paper to something more vibrant and mentally stimulating. Oil painting in particular brought me into a whole new world of opportunity and creative learning. Working with paint taught me patience is a virtue and attention to small detail makes the bigger picture even more beautiful.
As a child of above average height and girth, friends were hard to come by. Frequently I was alone in a world of my own with no one to share it with and a loneliness that could kill a male betta fish. When Naomi inadvertently introduced me to the art world I finally found a place to let out this world I created. With this new world came new friendships. People, I realized, were much more open in the art world than I was used to, and way more accepting. Suddenly, topics like homosexuality were like any other normal occurrence and were taken as such. I learned of tolerance and accepting others for who they are, not what they like or what they look like, etc. I learned how hard work and perseverance could achieve drastic changes and results. Along with the art portion came an understanding of other cultures through their artwork. With my obsession of drawing came a thirst for learning different art styles and, incidentally, I began to learn a lot about other cultural beliefs. It was amazing. My eyes became open to a world outside my own small bubble I had no knowledge of having.

Someday, I wish to thank Naomi. For now I will be content with creating my world my way.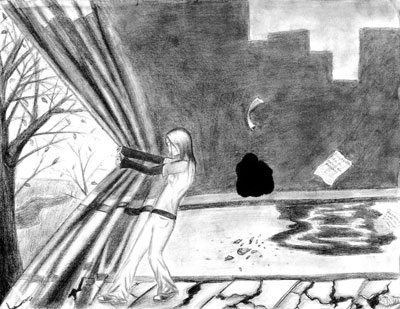 © Willow L., Nevada, IA