One Thing
April 27, 2010
My life isn't perfect; show me one person's who is. Weaknesses and failures play as big a part in my life as any others. On some days when things aren't going my way I feel as if the whole world is against me and that everyday is a battle. When this happens there is only one thing I think about. There is only one thing in the world that cannot be taken away by anyone. It isn't an emotion, a feeling, or a thought. That one thing is baseball.


I love baseball. Ever since I could walk, I've loved baseball. Ever since my Dad taught me how to play, I've loved baseball. I can still remember my first season playing T-Ball at the age of 7. I can still remember sitting with my Dad in the kitchen, watching as the Red Sox won the World Series for the first time in 86 years. From wall to wall in my room stands baseball memorabilia, from little league trophies to signed balls, pennants, posters, plaques, and pictures. Each one brings back a special memory I have about it. I have so many baseball memories I could spend this entire essay talking about them.


Baseball is more than just a sport to me; it is like a second life. When I'm on the field, every thing in my previous life disappears. My homework, school, my parents, my friends, they don't matter. All of the hassles of my life are put away for a few hours as I can just concentrate on what I love doing. This is why I think about baseball everyday when I'm going through a tough time. That's why whenever I'm stressed I can just say, "Man this sucks right now, but keep going because in a few hours it wont matter anymore."


Even when I'm playing baseball I know I can get some perspective on life. As a catcher, I am in charge of keeping the ball in front of me in any way possible. I've been bruised dozens of times from taking the ball off me. When I'm behind the plate and I take a ball off of the arm or leg, no matter how much it hurts I just remember it only stings for a while then it goes away. I can use that sort of feeling in my life off the field. When something bad happens off the field, I can just say, "This will sting for a while but sooner or later it will go away."


For me, baseball makes my life worth living and makes me appreciate the life that I have. I think the greatest thing baseball has taught me is this: Play each play as if it were your last, and live each day as if it were your last.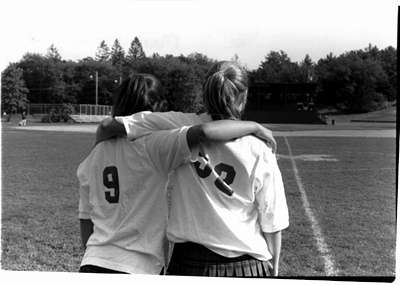 © Kelley C., Marblehead, MA