Embracing the Brace
MAG
April 27, 2010
I crossed my arms defiantly and glared at the plastic white object that the unfamiliar yet friendly man was holding out to me. It infuriated me that he was so calm, so cheerful, when my entire social existence was being threatened. "I'm not wearing it," I stated with a plaintive look toward my mom.

She sighed. We'd had this conversation innumerable times in the past week. "You have to. You don't want to end up hunched over when you're older, do you?" I shot her a look filled with pure venom and reluctantly took the offending piece of plastic to the changing room.

Ever since I found out that I had moderate scoliosis, I had been completely miserable. My back would ache every time I sat for a long time or bent over, and I knew that my spine was visibly crooked in a bathing suit, but I was not prepared to wear a back brace for two years. As a junior high student entering her freshman year soon, this was not an attractive option.

I strapped on the bulky piece of plastic under my shirt and slowly turned to the mirror. It wasn't just bad, it was horrible. I no longer had any curves to speak of, because the brace encased everything from my rib cage to the top of my thighs. When I turned around, the outlines of the Velcro straps that held me in tighter than a corset were clearly visible through my shirt.

Holding back tears, I stepped out of the dressing room, not sure what to do. The reactions of the doctor and my mother were perhaps worse than my own, because they were so phony and full of false cheer.

"See – that's not so bad, is it?"

"You can't even tell!"

Unable to stay calm for another minute, I ran out to the car, leaving my mom to deal with the doctor.

That day began two years of massive self-esteem and body issues. I felt that people were always staring at my stiff torso, whether I was in the locker room or the hallway. Shopping was a nightmare; nothing but the baggiest shirts in a Large would fit me without stretching grossly over my protective casing. I could hardly bend my body, and my friends would try to cheer me up by playfully knocking on my brace, but it only made me feel worse. In my mind, no guy would ever look at me and no girls would ever want to be friends with me.

For two years, these thoughts ruled my actions, both consciously and unconsciously. One of the best moments of my life was the day that I left Yale/New Haven Hospital wearing only my own shirt. I felt so free, so unimpeded. I became more social, friendly, and outgoing in the weeks after my release from that plastic enclosure.

Until I looked back at the experience, I didn't notice the change in me. All adolescents have self-esteem issues, but mine were somewhat extreme. My prolonged embarrassment about what I looked like in the brace only made me appreciate what I looked like without it. For the first time, I felt pretty; I bought clothes in smaller sizes. I cut my hair short and dyed it red, as I had always wanted to do but wasn't sure I could pull off, and I started using makeup to emphasize my green eyes.

Nowadays, I'm comfortable with how I look and feel. I have several true friends who stuck with me through that period in my life when I'm sure I was pretty annoying with my constant complaining. I'm known as a talker, the one who always speaks up in class (a trait which has been known to get me into trouble). I'm not afraid to draw attention to myself anymore. I'm also able to be myself in front of large groups: playing solos in band and singing and dancing in the school plays.

Although wearing a brace is not something I would recommend, this unique opportunity has made me a better person, someone who can see past outward appearances.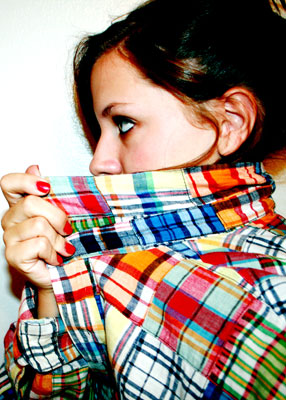 © Brooke C., Cut Off, LA