History.
January 15, 2010
"Ready to go to China?"

There it was. That simple line got me. It completely wrapped and consumed me. I was hooked. I did not know it at the time but I was utterly ready for that drastic adventure. Those artless words forever transformed my life. Sixty-eight pages of adventure plus a passion for history stirred by a simple third grade
novel. It was three dollars and ninety nine cents well spent.

I have always thought the brick building on the corner where my mom worked was impressive. It was the biggest structure on the block. With its gigantic red
tiled roof and riveting forest green letters it definitely stood out amongst the plain white shops surrounding it. I could literally see it from a mile away. I never knew why it was there or what purpose it served. The building
itself was an enigma to me.

I was only in the second grade when I first encountered this unfathomable building. The words Barnes and Noble made no sense to me; I associated Barnes with a barn... It looked nothing like the barns I have seen in pictures,where were the animals? I was thrown into a loop. As for the word Noble, I never encountered the word before, thus, the impressive red roofed building stood as mysterious monument. Finally after one whole long year, I finally unraveled the
shroud of mystery with the help of Mrs. Smith (my third grade teacher) and her summer reading assignment. I was required to read by the end of summer before my third grade a chapter book. Reading at the time was not my forte. I preferred moving pictures on TV to still pictures on small pages. I deemed that
coloring and drawing on paper was rather more important than reading off of them. Therefore, I had never read a book outside of school to that point. I was
in awe, so completely astounded, and a little scared when I was informed that the red roofed building was a bookstore and that I will be paying it a visit.

The moment I stepped through the oversize forest green doors I knew, in my heart that this is the beginning of a beautiful relationship. There was an
intoxicating aroma in the atmosphere of the store. The smell of the place alone
enticed me with excitement. However, there was no time for leisure. I was on a mission. I was determined to find my summer reading book. I promised myself to
pick my first chapter book. But there were so many. Each book had aspects the lured me to it. Colorful shiny covers filled with mesmerizing images. Yet, one
stood seductively apart from the others. Day of the Dragon King by Mary Pope Osborne. It was the one. I succumbed to the cover that reminded me of my Asian
culture. The cover presented a Chinese Emperor with a menacing look along with long monstrous claws towering over two kids. Yes, I did the forbidden deed. I
judged a book by its cover. In this case I proved the saying wrong;the content of the book was just as wonderful as its cover.

However, I did not want to open to the book still. Although the cover looked enthralling, it was still a book. I still did not find reading interesting or
fun to say the least. After weeks of abandoning my newly bought book, my dad finally forces me to pick it up and read it. I have to admit the prologue of the novel was a drag. It did not provide the fun nor did it capture my interest. But as the chapter one started...

"Ready to go China?"

Yes, those were the words that started it all. Mary Pope Osborne probably does not know it then and she would probably never know it in the future, but when Annie uttered those words she opened a new horizon for me. It pulled me into the world of knowledge. Of books. Of history. It sent me down the path of no
return.

Page after page I was kept one the edge of my seat as I ravage the sixty-eight pages. I could not get enough of it. I wanted to know more. To know whether or not Annie and Jack was able to save the last book in China ?if the silk weaver and the man that takes care of cows would end up together. It was fascinating,it was like a window to a world I have never encountered before. I was able to go back to a world that no longer exists. There I held the outcomes in my hands. Unlike science, math, or English, history always has the same ending. That ending, is the world that I live in today. This knowledge empowered me.

Not only was I allowed the pleasure of walking into the land of the past, but I also was able to unleash my imagination. A purple house no longer has to be a specific shade of purple. It can be mauve or have maroon tint to it, whatever suit my imagination shall be it. Unlike the cartoons and movies which have everything set in stone. A book gives room for my imagination. It permits my mind to roam freely and create a world described to best fit what I like or how I see it. It is like movie where I am the director in my head and the author is my screen writer.

Reading Day of the Dragon King by Mary Pope Osborne made me fall in love with
history and Books. After reading it I wanted to read more. I was addicted, and
like any other addiction it was and still is demanding and unstoppable. From
that point the craving for books began, along with that history reveal more and
more of itself to me.

It is a part of me.
It is my passion.
My love.
It motivates me to take the paths that I have taken and will be taking in life.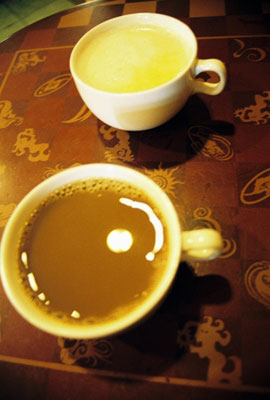 © Jaci S., Duluth, GA