My Inspiration
November 30, 2009
"The movie was filmed in Arizona." My mother began to tell another story about him. We were in the kitchen making pasta with the tomatoes that we collected from our garden. "They asked him to make a buffet table for one of the scenes. It was so beautiful. It took him hours to finish, so every last detail was perfect. When the director yelled action, a man ran into it destroying the whole thing! They were using it in a fight scene for a western movie!"

I hear stories like this about the man who inspired me to get into culinary and I can't help but think Wow…that was MY great uncle Frank (known as Cali, a shortened version of our last name Caliendo).
He died when I was young and lived states away, so my memories of him are scarce. I met him only once and can only remember physical, insignificant, details of his backyard, which is where I spent most of my time, while he was in the kitchen.

There was a pool with a slide just outside the humble ranch house. Neon green grass covered the yard where there wasn't concrete or the gardens. I found a few lizards only inches long, on the fence or under the hot pink flowers that resided in the garden, but was unsuccessful in catching them. There were lemon and lime trees full of fruit of vibrant yellows and green.

I remember this of my uncle...He was sick. He was hooked up to an oxygen machine.

I can recall Burny more. He was Cali's "care taker." I didn't understand my uncle was gay and Burny was his partner (I just thought Burny was there to help my uncle because he wasn't in good health). Burny smoked. I only know this because I threatened to throw away his cigarettes. It was a deep red and white pack with most of the thin layer of cover plastic still on, there were two cigarettes missing.

I am disappointed my mind recalls a detail as unimportant as a cigarette pack, but have no memory of what Cali looked like, what his personality was, or even what he made for diner.

I piece together what is left of Cali, from the stories people tell me, home videos, and photos in large photo albums to get an idea of what he was like…but I know him best from the recipes he left with my family. We have six volumes of Cali's recipes, from fudge, to homemade pasta noodles. Each one helps me to form a better opinion of who he was.
I don't want to go into the catering business like Cali. I would rather be involved in baking and pastry arts. Someday though, I want to own my own business, like Cali did.

Its odd how someone I have only met once, could influence my life so strongly.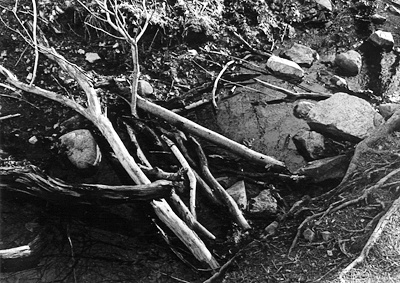 © Julie S., Marblehead, MA