Bratsitting
November 19, 2009
Dealing with children can be extremely difficult and physically draining. This was the case when I was offered a summer job my freshman year of high school. I had known the D. family since I was about 8 years old, so I couldn't refuse this wonderful offer. Georgiana was the first to be born when I started working for the family she was only one. I went into the job thinking pretty much all I had to do was play with her since she was only one; put her down for nap whenever she got tired. But little did I know how my summer and life would be changed dramatically.




The first day I went into the job it was not what I expected. I sat patiently in the kitchen waiting for her to wake up, when she woke up I go to pick her up from her crib and found that she was soaking wet because of her diaper which was literally about to explode from all the urine. I had to feed her breakfast which wasn't a hard task since she loved to eat and wasn't picky, then I would take her for her morning walks in her stroller. Pool time was to follow if it wasn't raining and then lunchtime and naptime after that. She was very bright at the age of one she said many words including my name, she loved to watch movies and crawl around the house. Since I am an only child I never got to experience what having a little sibling felt like but now she was not only like my little sister she was becoming a friend. The summer went on and I was there to watch her first steps as she was learning to walk , her vocabulary was expanding and she was becoming very active by the time I got home I was exhausted. Georgiana's mom was also pregnant at the time with her second child on the way, it's like Georgiana knew that she wouldn't have the spotlight anymore. Now it was September I was entering my sophomore year in a way I was relieved that I didn't have to babysit anymore, little did I know. They asked me if I was interested in babysitting after I got out of school and on weekends, they need my help since now Georgiana's brother Thomas was born.



My sophomore year was not going well I had so much work in school and then babysitting after, I got to the point where I was losing a lot of my hair due to so much stress. I felt like I couldn't it anymore restless days went on for a couple of month till one day I walked into the house ready to tell them that they had to find another nanny for Georgiana , they said they understood and thanked me for all my hard work. I went on the next week feeling empty and with a knot in my throat something just didn't feel right I missed her so much the way she made me smile whenever I was having a bad day or laugh for no reason. I was back to work the next week I felt so guilty and missed her so much I was talking to her mother one day and she mentioned that Georgiana had cried and asked why I didn't visit her anymore she didn't say my babysitter Katherine but my friend that meant a lot to me.




It's now my senior year in high school Georgiana is now three and a half and Thomas who I have grown closely too also is 1 and a half. I try to explain to her that I have to go away to college someday she's just beginning to understand and is making me promise that I will visit. Georgiana and Thomas made me realize that in life we shouldn't give up so easily we should watch what we do and say because others look up to us. I've learned that I should be more patient and that everything is a process. I began to see things through a mother's eyes and my relationship with my mother grew stronger because I began to be more thankful for everything she done as a single mother. Throughout all the diapers that I had to changed and bottle I had to make I learned the most valuable lesson of them all that in life if we don't push ourselves hard enough we will never know what we are capable of .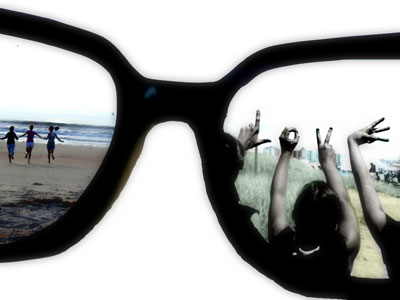 © Christina G., Bedford, NH