Passion for Fashion
November 7, 2009
"And who are you wearing tonight?"
Instead of John Galliano, Valentino or Marchesa, my dream is for my name to come as effortlessly to the celebrities as these iconic ones do.
I'd rather spend my afternoons walking through aisles of fabric that I can transform into anything as opposed to racks of shirts in sizes small, medium or large. I spend my Saturday mornings on the third level of a woman's house where buckets of fabric line the walls and shoes are a necessity if you don't want pins in your feet. There she has taught me more than I thought I'd ever know about sewing and bringing my sketches to life. Ivette has made fashion her life not only by devoting an entire floor of her house solely to designing and sewing, but by finding people and places close to her that can use her talents. When she's not busy creating Aladdin and Jasmine costumes for middle school plays, she's spending her time making costumes for a dance company in Boston.
For the past year, I've walked up the two flights of stairs each Saturday morning trying to wake up while she's bouncing with ideas, a cup of coffee in her hand, ready to get started. She pulls her hair into a bun and then ten minutes after we get upstairs when she tries to thread the machine, she realizes she has once again left her glasses downstairs. Often times she's so caught up in my next project that when the phone clipped to her belt rings she easily ignores it as if it's not even there.
The cutting table in the center of the room is always crowded with scissors, patterns, pins, and fabric, and I hear a promise to "have it clean for next time" every week, but it always looks the same when I come back. And I'm secretly pleased, because I hope she won't follow through on this promise; the room wouldn't be the same escape into the fashion world if it were cleaned. When I turn my back to the cutting table, I find myself facing another table covered in thread, needles, and sewing machines, four of them. I don't know why she needs four, but just the same, if she were to get rid of any, it wouldn't feel the same.
These Saturday classes were supposed to last two hours, but more often than not I find myself leaving at 2:00, not the scheduled 12:30. It's too easy to get wrapped up in a project, and forget to look at the clock when there are no distractions apart from more fabric and patterns waiting to be used. But, even though they run a little longer than expected and I can't stay out as late on Friday nights, it has been during those Saturday mornings that I've succeeded the most at holding onto my dream. And by keeping it close and pursuing it further now, I'm getting nearer to having those celebrities know my name.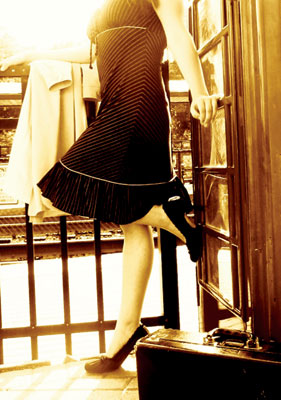 © Martha V., Morton Grove, IL