Take Two
November 2, 2009
The scene opens in a coffee house. Smoke mixed with the bitter scent of mocha clouds the air, creating a misty, ethereal atmosphere. Slowly, it dissipates, and the room comes into focus. The camera pans across the room, not stopping to focus at the countless young professionals, pounding away at their laptops writing their brilliant screenplays that, most likely will never reach fruition. Suddenly we pause, and zoom in on a particular figure, a sinewy youth of 17 years. Eyes hidden behind a curtain of badly dyed jet black hair, his long pale fingers reach out to grasp his latte. As he sips, slowly, we catch a glimpse of his face. He could have been handsome, but with his deathly white pallor, sharp, prominent cheekbones, and harsh black eyeliner he appears sickly, a shadow of a once vibrant youth.

We zoom in a bit more. An off-white slightly frayed piece of notebook paper rests under his elbow. Lackadaisically he picks it up, brushes his bangs out of his ice blue eyes and pulls out a ballpoint pen. The camera turns 180 degrees, and it is as if we are gazing through the youth's eyes at the paper. Slowly and deliberately the camera focuses on the frayed neglected document. It is a poem, happy and light expressing the innocence of youth. The camera slowly rotates until all that is visible in the lens are the boy's startlingly blue eyes. They sparkle and they crinkle, slowly, deliberately. The camera moves downward, we see the boy's timid smile and then we leave him, focusing on the whirls of synthetic wood in the table's leg.

The camera pans out into the smoky congested atmosphere, briefly focusing on a group of teenage girls clasping hands, their silver Tiffany bracelets glimmering in the light. Slowly, the camera pans in on a young woman. She is blonde, petite, unconsciously fingering the rhinestone studded lock around her neck. As it zooms in further, we get a better view of her. She is older then we first realized, perhaps nineteen or twenty, lively, still bursting with the robust colours of youth.
The lens pulls out, rotates 45 degrees, and then pulls back in. We see her pull a stack of crisp, white papers out of her black canvas bag, and place them onto the table. We zoom in as she fans out the papers, and slowly, deliberately the words come into focus. College papers, countless applications, methodically filled out in her neat, uniform handwriting. She bends down and pulls one last paper out of her bag. The camera swings around again, and suddenly we are beside her, gazing over her small, sloping shoulders. She tilts this particular paper upwards, and as the text comes into view we see that it is a poem. It is at once solemn and hopeful, a story of struggle and redemption. It is unexpected, and one fleeting glimpse of text is all we see before the camera moves upward and focuses on her startling blue-grey eyes. They sparkle, vibrantly, alive with wisdom not normally associated with one so young. The camera then descends, and we are left with but a glance of the girl's mouth, and watch it slowly, deliberately form into a half smile before the scene fades into black.
The director pauses, and rewinds the short art piece. She wonders if she should display something so personal, or if it is too much of a risk. For, you see, the director is in fact the young women with the wise, worldly eyes. She exhales and wonders if the audience can tell, can tell that she suffered from clinical depression, can tell that the wisdom in her eyes comes from the trials and tribulations that most girls her age have not, and perhaps will never experience. Sighing, she anxiously fingers her necklace, and wonders. Oh how she wonders. She wonders if the schools will look past her patchworked high school history and see the true girl, no, the true woman that she is. The woman full of passion for learning, for beauty, and for life, the woman who does not find her thrills in dimly lit night clubs, but rather in the pages of an existential Dostoyevsky novel. Slowly she smiles, for she knows that in the end, her depression is but a small speck in her distant past, a speck that she is thankful for, as it has taught her to appreciate the beauty present in each day, to savor each elusive moment of joy. Her body relaxes, for she knows that no matter which school she chooses to attend she will be an asset, a vibrant addition. For she brings the kind of diversity that is not found in colour, or race, or creed. Rather she brings a new unique, view of our world, as one who recognizes that it is neither happy nor sad, but a symphony, where the soft tones of melancholia complement the lively bursts of joy. In one fluid, deliberate motion, she reaches for her camera. It is time to film her finale.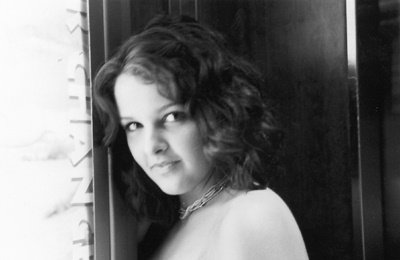 © Ashley T., Pointe-Claire, QC, Canada