Footprints
September 13, 2009
In the front of the room, there is a desk covered with textbooks, novels, and essay anthologies, right between the blackboard and the LCD projector. Around the "lectern"—though Mr. El-Amin never restricts himself to one area of the classroom while teaching—sit our desks begging to be moved closer to the center of learning. And in those eager desks are his students: pens poised to our paper, ears free of waxy blockage, eyes torn from the wall where Meiji Japan and modernized Egypt are compared beautifully, and our minds open to learn of more people who left their footprints on the world.
Anything that touches a human being's life positively is a footprint. They are all roughly the same size, though different forms and depths. To leave a footprint—like raising a child or becoming a sports star—is to prove that you spent your short time on Earth doing something worthwhile, that may have given someone else the permission to become great or the motivation to emulate your achievements.
My footprints will be littered to the corners of our one and only world. In sterile, purring research labs and the low-budget summer day camps. In the diseased slums of colorful India and the down-trodden streets of post-Katrina New Orleans. These footprints will say I desperately desired to understand the world—no matter how despairing. They will say I did something to change it. These footprints will be so thoroughly imprinted on mankind that no natural disaster will ever be able to wash them away.
There is a place other than Mr. El-Amin's AP World History class where people are allowed to immerse themselves in an environment focused on all kinds of understanding—understanding of biomedical engineering, understanding of leadership, understanding of humanity, understanding of life. A place of diversity and new experiences. A place where opportunities are available for young people like me to learn how to leave millions of footprints.
And there's no place that I'd rather be.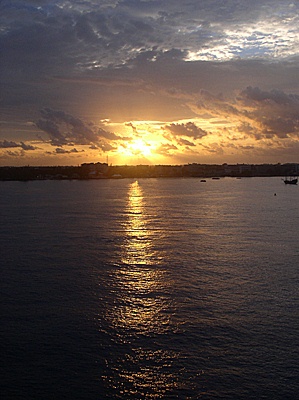 © Rebecca Y., Los Angeles, CA