Why We Have Eyes
May 17, 2017
The human eye views the world at a rate of 60 frames per second, which is why car tires sometimes appear to be spinning backwards; the rate of rotation aligns with the frames per second that our eyes process. As one of the most complex parts of the body, the eye can detect light and movement recognizing photons and send signals to the brain to be processed as an image. The eye is also "the gateway to the soul," and represents focus, intelligence, and secret societies. How a person uses their eyes indicates their acceptance of others, their relationships, and their identity. I am a firm believer in eye contact.

One day, at volleyball practice, I was having a hard time with a particular drill. I could tell one of my teammates was getting frustrated with my playing because it was preventing the drill from ending. When we finished and went on a water break, he handed a Gatorade bottle to me and, with a brief moment of eye contact, let me know he didn't hold anything against me and was ready to move on with practice. It's only through understanding that people learn acceptance. Eye contact helps people understand and accept each other.

Sarah Andrea was born 27 October 2016 at 8lbs 4oz and 21in. She is 6 1/2 months old. The first thing I noticed about my baby sister was her beautiful dark eyes. She loves to open them wide and gaze intently at whoever currently holds her attention. The other night, I was feeding her some carrot mush, and she wouldn't stop staring at my eyes. It's her way of showing that she loves me, trusts me. These little staring contests are tender moments for both of us. Eye contact builds relationships.

Eye contact establishes identity. My seventh grade PE teacher taught us how to properly shake someone's hand. Between a firm grip and eye contact, the latter is more important in creating a connection with a potential employer or associate. Based on the powerful first impressions I make, a glance in the eyes really works. Those who can look someone in the eyes tend to be the people we most like to spend time with. I have always been more intrigued by those who maintain eye contact, and someday, that personal connection is how I will find my future wife. The reason I find myself able to keep that connection is because I know who I am. I have figured out what I want out of life, so when I look someone in the eye, I'm not searching for myself; I am trying to understand and reassure them by building a relationship without words.

I am not perfect at this profound correspondence, but I improve every time I try. The positives for myself and others are too great to ignore, and so I continue to push through the awkward and uncomfortable to become better at this art form. I believe in acceptance, I believe in making strong personal connections, in knowing who I am and who others are. I believe in eye contact.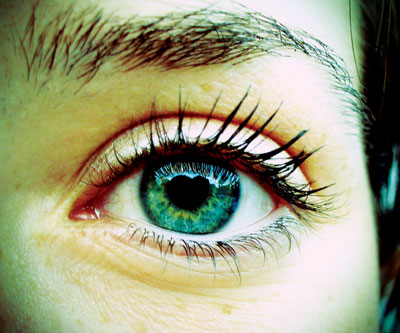 © Michelle K., Vancouver, WA