A Pledge to Real Learning
MAG
March 26, 2016
I've dreamed of attending a university for as long as I can remember. I imagined an almost Utopian intellectual community. Experts would mingle with curious students and inspire them to create great things. Dinner conversations would be a beautiful conglomerate of debating old topics and rehearsing the expression of newly born ideas. I imagined a life where learning and growing intellectually would be my entire aim, my full-time job. It sounded perfect.

Since I've been to university, however, my ideas have changed. I stay up late stressing over grades and unfinished assignment. Lunch with friends consists of complaining about the overload of seminar reading until we get too tired of speaking about school altogether and my buddies move on to exciting tales of nights out, how they escaped the drudgery of student life through drunken misadventures.

It is spring break of my first year. I have learned a lot. I've learned about my tutor's expectations and preferences. I've learned how to write what they like to hear. I've learned how to reference properly and read a journal article without falling asleep. Those are all useful things, no doubt, but what about my passions?

I haven't read a single book for leisure since I arrived at my university nearly eight months ago.

I haven't read more than five paragraphs of fiction in the last five months.

I haven't had time to pursue my personal intellectual interests of studying Middle Eastern history, propaganda, and brainwashing.

My writing projects have all fallen into almost complete
abandonment.

In fact, I've hardly picked up a pen at all, except to write a few short and scattered journal entries and notes home to my family.

Part of me believes that I came to university and stopped learning. I stopped exploring. I began accepting what my professors fed me for lack of time in the desperate pursuit of high marks.

I refuse to let this happen.

Writing historical fiction and studying history are my passions. College is going to help me pursue those passions. So today I am openly vowing to pursue learning above all else and make the most of my time at university, even if it means sacrificing my grade point average.

I pledge to read at least one book every month (outside of my coursework).

I pledge to read at least five paragraphs
of fiction every single day.

I pledge to read one poem every day.

I pledge to write in my journal every single day, no matter how busy or tired I am.

I pledge to write at least 100 words of fiction every Monday, Thursday, and Saturday.

I pledge to take time to sit and think and do nothing, every single day.

I pledge to start meaningful conversations with my coursemates about things that really matter to me (i.e. not grades, coursework,
or alcohol).

I pledge to be honest with my tutor about my life goals and tell her about the novel I am writing, even if it is embarrassing.

I pledge to do these things because I want to take back my university experience. I want college to shape me, to change me. I want to grow as a person, not just as a student. I want to take advantage of the resources around me to explore parts of the world I wouldn't otherwise have access to. Even if my grades suffer, I refuse to sacrifice exploring for the sake of working with the university system. I am here to learn, whatever the consequences may be.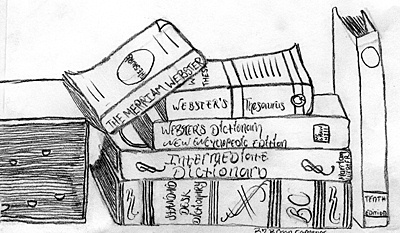 © Bryan C., Lovelock, NV