The Silent Floor
MAG
October 15, 2015
The third floor of the library is the "quiet" floor, but all I hear are distracting noises. A gentle medley of computer typing, some loud and some barely audible, some fast and others slow. I hear each person's thoughts processing as they type; the slower the clicks the harder a time the person is having. Distant sounds of the elevator arriving and departing, shutting and opening, is heard and acknowledged. I hear the unmistakable sound of paper being ripped from college-ruled notebooks; some sound more vicious and some nonchalant. I hear quiet versions of popular songs from many headphones, meshing into one big medley.
A book is mistakenly taken from the first floor, eliciting a loud beep echoing a long distance. The sharp rip of a bag of chips opening or the pop-fizz of a carbonated beverage causes a sudden change in mood toward that person from their peers. A short, phlegmy cough is followed by a sneeze, but nobody dares to open their mouth to say, "Bless you."
I try to focus on my work, but I cannot help being distracted. Whispers carry and become as loud as shouts, stares once again become apparent through sounds. Obnoxious laughing comes from the lower floors and is carried through the library, followed by a short "shush" and then silence. I hear taps from the private rooms as someone writes on the whiteboard walls, some hard and fast, and some slow and soft. The buzz of a phone call or text and a quick grab for the device, a few taps before the device is plopped down screen first.
The distant echo of a lawnmower on the quad near the library reminds me of Sunday mornings at home. Closing and opening doors to the various bathrooms, a loud toilet flushing, and the loudest possible hand dryer the library could buy. Later the clatter of peers packing their books and computers, very sudden and extremely loud; pens clicking, laptop computers hitting against hardcover textbooks, water bottles crushed and crackled into a side pocket, and scraping of chairs.
At the same moment, new arrivals get situated, placing supplies on tables; loud crash of a heavy bag filled with textbooks and a computer, backpack, or purse zipped open, notebooks placed on a specific spot, and pens or pencils thrown onto the bench. Every now and then a rickety book cart swivels through the aisles, squeaking with every push. Peers using the "quiet" floor as a napping area are snoring slightly. I study on.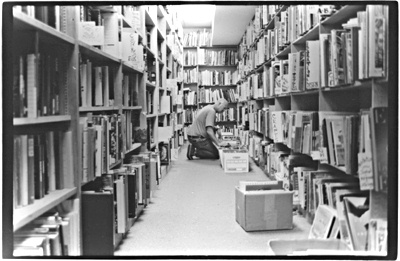 © Benjamin K., McLean, VA