How to Write the Perfect College Essay: Step by Step
August 22, 2014
As a rising senior in high school, I'm stressing out and frantically rushing to complete college applications, improve my test scores last minute, and handle a full load of IB courses all at once.

Recently, I visited my brother in Washington D.C. for a few weeks, leaving ample time for him to remind me that deadlines for college applications were approaching.

After the initial breach of the subject, to which, as all teenagers I assume, I reacted with an annoyed look and an eye-roll, I managed to loosen up and actually listen to what he was trying to say, which I will attempt to sum up in the following. Here are some questions to consider;

The first question you have to ask yourself is,

1) What really makes you YOU?

In other words, why are you special? You can look this up anywhere online, but college essay questions are looking to know what you're going to bring to the school, and why they should take you.

In a way, think of it as presenting yourself as a prize, an additional plus to the school.

2) What can you bring to the school that nobody else can?

You're not a burden. Your goal isn't to try to prove to them that they owe you a spot because you're good enough, but to explain to them why they need YOU in their school. Remember, you're prime real estate and you need to sell it.

2) What is special about you?

This seems to be an easy enough question to answer, but if you really think about it, the first things you say are answers that hundreds of thousands of other college applications think of themselves.

Sure, we're all kind, caring, intelligent, talented, and supposedly individual. Even though these words can be used to describe a good amount of the human population, there are subcategories. Delve deeper into these words.

3) What makes you an individual? (Besides the obvious, don't be a smartass.) Is it your ability to see when others are in need of help, and being able to provide them with the right tools to fix it?

To sum it all up, what you need to do is focus on yourself and your qualities.

1) Leave aside plenty of time to answer these questions to the utmost of your ability


College essay questions are generally broad and have a million different answers, which seems easy enough at first glance, but explaining yourself and successfully addressing the prompt in a 350 word limit is a lot harder than it seems.

2) Draft, edit, re-draft, share, read, delete, edit, save a thousand times over.

The more eyes, the more likely your essay is going to be well written, and possibly good enough, for the college of your dreams. Don't hesitate to ask your family members, your teachers, your counselors, your friends. Every single person who reads something has a different insight and opinion to add, and the more you hear, the more you see your own work through somebody else's eyes. How many times do teachers lecture us to read and re-read our work before turning in the final paper? Now, more than ever, this is an important lesson that must be taken seriously.

3) Reflect on all experiences in your life, regardless of how cheesy and/or irrelevant you might find your ideas to be. These experiences and thoughts are the gateway to the perfect college essay.

Never underestimate your personal experiences and stories. There's a reason college essay prompts ask you to write an essay about YOU. You've spent a good time on this earth, meaning that whether or not you think you're interesting, you definitely have a collection of experiences that is completely individual to you. And only you. Nobody else on the planet has existed and lived in the exact same way, meaning that to any college you apply, you have something to bring that nobody else does. Literally, by definition of individual. So never underestimate a personal experience, you don't know what it could lead to!

4) Seriously, read it again.

I cannot stress this enough. A single extra space or grammar mistake could cost you the entry or a scholarship to your dream school, regardless of whether or not you accidentally pressed the space button too many times. The mistake isn't the important part; it's the carelessness and effortless submittal that shows you weren't paying enough attention to your work. Take it seriously.

To all college applicants for the 2015 fall semester, including myself, I wish the best of luck.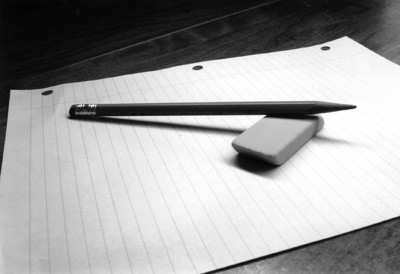 © Michael H., Mildford, CT