Today What We Lack Is Patience
July 20, 2014
In Ahmedabad in Region of Naroda , last place of the general public , there was full hush in the house , on normal crevices individuals were assembled and stand out sentence was heard in that full quiet with a sound of blame in his voice " I was just at shortcoming , I am the main explanation behind his suicide. I was not ready to comprehend the emotions of my own child." An overall taughtful and a blameworthy father was yelling in that hush simply in light of the fact that he lost his just child who was considering at the L. D Engineering College Ahmedabad.

He was a splendid learner of this school however simply because of less grades in one semester the father chastened him that in next semester he need him to top the school. The kid attempted to converse with his father about his circumstance that he was having some issue in his life however the father constantly disregarded him by reprimanding. His companions thought about his despondency so they counseled an analyst and the therapist said that he shouldn't be pressurized any more or it may hurt his life. The companions additionally educated his guardians about his circumstance however the folks as constantly overlooked in light of the fact that they don't comprehend what gloom really was.

At last disappointed with the exam and the results only one prior day the exam the Boy suicide with a little letter with only four words however it clarified what he really needed to say in conclusion.

FINAL EXAM FINAL EXIT

I am perusing daily papers normally from around a month and what I perceive is that from one month I watched 30 instances of suicide which implies one case for every day. The greatest reality of my perception was that just about more than 90% of cases were of the adolescents who were generally instructed and the fundamental purpose behind their suicide was simply that they were not fit to handle their issues of life. We live in such environment where everybody is eager of achievement. Everybody needs to accomplish achievement and they require that accomplishment as quickly as time permits implies practically less work and more achievement. This all results in only one query that are we not understanding what we require in the way of achievement. Its not that the person who endeavors suicide don't cherish their life. Everybody cherishes their life.

The main reasons for suicide are anger, sadness, depression, etc. If you face failure never think you failed just think why you failed and what lead you to such failure, find reasons for failure and work hard on it instead of thinking negatively. Just think of changing failure to success .It has been observed that many a times family members of that individual who suicide remain unaware of the reason of depression. There will be many places in life where everyone may face some kind of failure but just remember one thing in life, time never remain the same forever it keeps on changing . Today's world is competitive one. Everyone is running a race for success and everyone wants to be first. The wish of being successful is good and everyone wishes for such and they should but having a fear of failure in heart may lack you behind. Due to small failures we just get afraid and start getting angry sometimes with others and many a times with our own self. Sometimes thinking of others and our image we don't show our anger to others but this may not harm our image but it harm and kills ourselves deep inside heart.

Writer's Desk - Main reason for a person to commit suicide is that he / she prove that he is innocent and can't afford the pain of failure. Just remember IF YOU HAVE COURAGE TO SUICIDE YOU HAVE MUCH MORE COURAGE AND ENERGY TO FACE THE FAILURES. BE BOLD AND CONFIDENT TO FACE EVERY PROBLEM OF YOUR LIFE IT JUST MAKES YOU STRONG.

When you fail in life just remember one poem which is as follows


life is masterpiece of art..
It all needs is a kind heart
Life consists ups and downs..
sumtyms smiles sumtyms frown..
Avoid all rush..
Take a brush..
listen to hearts voice ...
painting is ur choice..
Life may be smile or grief ..
paint it all in brief..
making solecism is alright ..
look at ur emulsion bt never cry..
begin a new start ..
wid a new piece of art..
painting of life is never fully complete..
be in process and stay sweet ..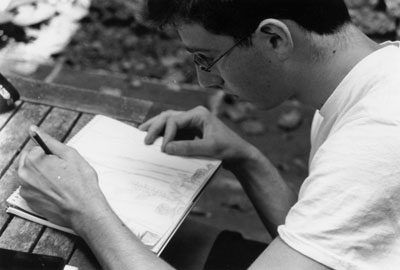 © Kira L., Bethesda, MD