Coming to Terms
April 30, 2014
College can be both a beautiful experience and the worst idea one person can ever have. In the beginning, we get to meet new people from all over the country and the world. We all become friends and develop into being ourselves. As it has been told by many, college is the best four years of your life and you'll meet people that you'll never forget and perhaps fall in love and get married to the man or woman you want to spend the rest of your life with. All throughout high school, we as students are constantly asked about what we want to be when we grow up or where we want to go. Many students, like me, had many hopes and dreams into getting into a big name college to be a big name person. Often times, those dreams shift as we don't get into the college we want, but most of us fall in love with another school where we feel as if we will be most content. Excitement fills the air as we get accepted and know where we want to go as the financial aid offers pour in right after the acceptance letters. But we often get caught up in the heat of the moment and forget about the now.

This is where the worst idea comes into play. We look around ourselves and see faces we have come to love and cherish over the numerous years of school. Of course, we've all transitioned to bigger schools, or new schools altogether. However, this is completely different. Many students who go away to college are no longer surrounded by their closest friends and loved ones.

People always asked me from day one what I where I wanted to go to college. I grew up in Southern California, right outside beautiful San Diego. Ever since I was seven years old, it was my dream to go to the University of California Los Angeles. I worked very hard in all of my schooling to ensure my acceptance when senior year rolled around. I was devastated to learn, that even with all of my hard work, I didn't get in. Soon enough after, I realized my love for a small school in the mountains of Pennsylvania. Deep down from the beginning, I knew that this is where I want to go; this is where I want to be a part of for the next stage of my life.

But now, I face the multitude of problems that arise from this. I look around me and realize that I've learned to love Delaware and I am slightly depressed to see myself leave from it. Most of all, I turn to my loved ones. Each one of us is going various directions. Some are staying and others are going as far away as possible. There's even one that is going into the marines. My heart breaks a little from the pain, but glows from the pride of all that we have achieved over the past four years.

Most recently, I entered a relationship on a whim. I had not yet decided where it was that I wanted to go, but at that moment in time, I was leaning more towards the University of Delaware. I fell instantly for this boy who stole my heart by making me laugh until I couldn't breathe and his overall kind nature. My heart broke the day I realized what school I had chosen to be a part of because it was 4 hours away. At the moment, we know that it doesn't seem like a lot, but after time it will be and we both know that. This is why we finally talked about what we had both been avoiding. Looking into his big brown eyes as he answered my question made my heart shatter. We know that our relationship has an expiration date of August 21; the day I leave. Neither one of us wants this to end, but we know that it has to and that it is for the best for both of us. I curled up next to him taking advantage of every moment that we have together. Along with college, I plan to make the next three and a half months the best that it can be. Even though I'm more than excited for college, I've come to terms with the end of something that I'll never forget.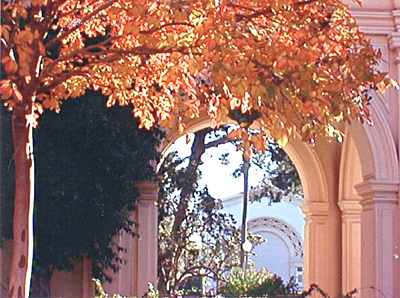 © Rachel B., San Diego, CA