A Peanut Goes to College
August 30, 2012
I was seventeen years old when the doctors told me I had a tumor. They didn't know what kind it was or what it meant, but I was a little nervous anyway. One of the first thoughts I had was, "I want to see Peanut go to college." For those of you that may be a little concerned about my obsession with food (which I won't deny, but that isn't what this is about) Peanut is my nickname for my short, bubbly little sister who just can't seem to get those last two inches of height she so desperately wants.

I underwent some surgery and various sorts of tests, and throughout all of that I wished more and more for that dream of mine to become a reality. When I finally came out of eight months of health trials, I was tumor free and determined. I was going to get my sister into the college of her dreams, and I was going to be there for every part of it. My own 'getting ready for college' experience had been a little convoluted and unclear. As I began helping my little sister do hers, I realize there was a lot of important things I missed. I kept track of all the things we did getting her ready, and have put together the following checklist to help anyone else feeling a little overwhelmed or just plain determined to get things done.

The Preview - Before you begin messing with paperwork and applications, get a preview of what it is to focus on. Think of it as a movie trailer to the epic movie that is going to be those 4+ college years of your life. Meet with your academic counselor and talk about your GPA, your strengths, where they would recommend shooting for. Do you have a professor that inspires you, or a subject that does? Talk to your instructors about where they went to college. Why did they pick their field? What excites them most about their subject? Before you start even looking at schools, know what you're interested in before you start getting into the college process - that way you can narrow down your search for college right in the beginning. Really don't know what you want? That's why those academic counselors are useful. They will sit you down and go through your options and, if nothing else, give you a good suggestion where you can go to get your generals done and sample great programs. Don't be afraid to ask them for this - they are trained, paid professionals who have done this many times before. My sister and I sorted through tons of paperwork we really didn't need to when she was trying to pick a college until she went in to talk to her counselor, and then we ended up throwing away half of our 'approved' pile anyway. Don't waste your time when you've already got friends and tests and extracurriculars to worry about; see the trailer before you invest in the movie.

The Gathering - Most of us don't settle down to our movies empty handed. We make sure we've got our popcorn, our candy, our drinks, and (if we're lucky) mini donuts or nachos. The point is, generally we want to go into that movie with all of those things beforehand, rather than leaving halfway and missing out on that film we've been waiting for. So, what is the popcorn and candy to college?

* The ACT/SAT Tests. Some of us don't think we need these, but here's something my family didn't know when we started this college process; more colleges and universities require this than not. So even if you have a school that doesn't need it, don't settle. You might miss out on a great opportunity to go to a fantastic school just because you didn't take the test. You might surprise yourself with your score. Don't wait, either. My little sister kept saying, "I'll take it eventually,", and though she did, a lot of her classmates didn't because they ran out of time. You can always take multiple ACT's if you're not happy with your initial score. You can do it again, but in the meantime get it done early so it's out of the way. As well as that, the scores in these tests will help you make better decisions about your universities. Did you score higher than you thought? Maybe it's time to go big and examine some schools you didn't initially think you could get into. Did you score lower? That's OK, the good news is that you've taken it early enough that you can re-group your thoughts and do it again, to get the score you hoped for initially. For people who don't know what to go to college for, these tests will also point out what areas you tend to do best in. If you're not sure which direction to head and you score well in the Science and Math sections, that must mean you find it easy and/or enjoyable. Start looking for colleges that offer the best in those programs! Refer once again to those wonderful counselors to see what your ACT/SAT scores open up and where they seem to be pointing you.

* FAFSA - Most of us have heard this horror story about the evil, all-consuming document that is the Free Application for Federal Student Aid. I didn't fill one out my first year of college, but I wanted to do it for my sister after hearing my friends talk about how useful it was. I found out a few surprising things. Though it was by no means fun, the FAFSA wasn't as hard as I thought it was. Most of it relies on your parents' info anyway. You don't even have to do it all at once - once you log into the FAFSA site and begin your aid process, you can save and continue as you please! My sister and I designated one week to get it done, and we only spent ten minutes on it at a time. This document tells you what you can qualify for in terms of financial aid for free, money you don't have to pay back. What could be better? Have you been told that you won't qualify for money thanks to your parents income? Don't lose heart, because that's what I thought, too, and I made a big mistake. Turns out both my sister and I qualified for money, and as well as that college and universities like to have all that information on file so that they can help you be successful in paying for college. Ten minutes a day to ensure that you can go to college financially safe and secure is really not that much. Still not motivated to do it? That's all right, just ask your counselor how useful the form is when you go in to talk about your interests and that ACT - they'll tell you all about it.

* Websites and College Visits - Oh, so you've gotten both of those above things done? Perfect. You've talked to your counselor too? That's great! Now you've probably got an idea what you want and where you'll be shooting for college. It's time to start getting actual paperwork and websites. Don't worry, it isn't as scary as it sounds. You've already narrowed down your college lists and have some scores to send them - go to the websites of the schools you're thinking of going to. Check out how they present themselves and what services they offer. E-mail the counselors there if you like what they offer you; get in touch early so that they know who you are and can even tell you more than you'd just generally find out. Schedule a college visit; it's important to know what you're getting into, and where that is. Does the college seem nice enough but does the area make you nervous? Does the website look clean and functional, but the campus isn't? Does the school present itself with people who seem to take an interest in you, or does your tour guide seem to look at you as 'just another senior'? Are you comfortable there? Does your family like it, too, or is there something about it that's making Mom bite her nails and Dad get grouchy? Doing your research on a place is one of the most important things you can do for yourself and whoever else is involved in your college process. My sister cut out at least five colleges in her list thanks to websites and the way her counselors addressed her in e-mails. That may sound picky, but to her she wanted to be respected and viewed as an individual adult, not answered as "Hey, please refer to the website for your concerns." The amount of time your college puts into you is never something to compromise on - someone is paying for your education, be it you or your parents or the government, and you need to make sure you get the most out of where you're going. Websites and visits can also give you scholarship information, application information, and a list of all the different programs and courses you can take. They are an incredibly valuable tool. If you don't have a computer at home then use one at school or at your local library; there isn't a value you can place on being prepared.

Those are three of the big things that people need to get going in the college process. For more info and questions, don't be afraid to call colleges and counselors to better inform you. Now that you've got your popcorn and candy, and a drink just in case you're thirsty, time to officially pick your seat.


Settling Down - You've been to the sites and talked to some people. You're just about ready to watch your movie, but now you've got to sit down and get comfortable. Submit your college application earlier rather than later. There are usually deadlines for applications. Set it on your calendar, make a phone event, write it on a sticky note; it doesn't matter how you do it, but remind yourself to get this done. I cannot express how many of my friends as well as my sister's friends missed out on the college of their dreams just because they didn't pay attention to an application date. Applying to your college as soon as you're ready will also open up a whole world of scholarships for you and give you the chance to work out all the other details of college. That way, you don't have to do it during those crazy finals weeks and you've got some time to talk to your parents and siblings about your process. Don't expect your body to deal with all the college stress at once. Pace yourself once you've picked the colleges you're applying to so that you get everything in on time and when it's needed. You now have an idea what you want to look for in a college and you've been preparing your grades and scores for it, so now it's time to pick the Big Five; five colleges that you're interested in. If you want to do more, that's fine, just don't overwhelm yourself and remember most colleges require you to pay to apply. If you have less than five picked out, at least shoot for three so that you keep yourself open and flexible. Here are some things to keep in mind when you're picking your Big Five:


* Scholarships - what kind of financial aid options are available to you?

* Tuition fees - What does it cost to go to those colleges? Which of them offer the best payment options and are you comfortable with how you will pay for them? Do you want to live on campus or will you have to? If so, how much does that cost?

* Extracurriculars - Are they offering the sports or activities you would want in a college? Could you possibly get scholarships to do the things you love? College isn't just about the degree; what helps you become the best you can be?

* Class size - Do you like it when there are lots of people in a room, or are you a fan of one-on-one instructor time? This is the whole 'Am I a number or a name' debate all over again, so which do you prefer? If you feel that you would prefer getting your work done and over with, maybe a bigger class size is better for you. If you think you like a little more guidance and to be able to talk more to your instructors, try for smaller sizes. Both of them have their own strengths and weaknesses.

* Diversity - Does this matter at all to you? Are you going to feel uncomfortable if the majority of students come from one kind of background? This is not only about color or race; what kind of people go there? Do they come from all walks of life and are there enough multicultural programs, or do you not really worry about that? This is important especially if you think you'll want to get into international business or social justice one day. This is also another good thing to keep in mind when you do a college visit and observe people on campus and how the college presents itself.

* Environment - Are you all about 'going green' or doesn't that matter? Does how clean a campus is affect you? What do the dorms look like? What about apartments in the area? What's the crime rate around there? Being prepared for what your community offers will help you be happy with where you go to school. If you really don't care, that's fine, but make sure your parents or guardians are on the same page as you about that issue.

* Resources - Do you want a college that offers a lot of different help centers (writing centers, math help centers, career centers, counseling centers, etc) or do you just want somewhere that will give you our work so you can go and get things done? College visits, the websites, and inquiries as to what resources are available to you may help you make a decision on what college you want to go to.


Those are just some of the things that people like to think about when getting ready. A lot of the things on that list are questions the little Peanut had for her college counselors and tour guides; don't be afraid to ask them! That is what those people are there for, and once again, your happiness is important. You could wake up every day for the next four years grumpy and transferring to other places because your college doesn't jive with you, or you can wake up every day and be grateful you go to school where you do, with the people and programs you do. It's all about being prepared. Does this list make you a little nervous? Don't let it - like I said, all you have to do is take this one at a time. Talk to your parents, counselors, siblings, and friends. Get your materials ready and then go through the applications and paperwork. If you do one thing every day of one month, you won't spend more than an hour every day and you will have it done within that month, if not sooner. College is about becoming an adult, but nobody expects you to do it all at once. Keep an open mind and be diligent. No college is too far or too good for you if you do that.


I write these words with the utmost confidence that you will go to a good school, because with the above checklists even a Peanut went to the college she always dreamed about, when she thought there was no way she would ever get in. I was sad to finally buy her supplies and pack her up to go to her college, but I was also very proud. She picked a college that she couldn't talk enough about, and couldn't wait to get started at. Your parents, counselors, and siblings want to see you happy, too. When my Mom and I finally drove away from her college, we were so proud of her school and of her, because we knew she was taking her life seriously and that, for the next four years, she would be going somewhere that gave her everything she needed to be successful.

I wish you all the best in your pursuits, and I hope you get into the best college for you. I guarantee that, even if you don't see it now, going to college will help you help people one day, whether you decide to be a mechanic who fixes things, a psychologist who fixes people, an English buff who teaches people to look into their hearts, or a business major who helps keep the economy stimulated. There is so much to see and so much to offer, and you don't need to be another me with a tumor to finally get your priorities straight and make your dreams come true. Good luck, and enjoy the movie!

With the highest regards,


- J.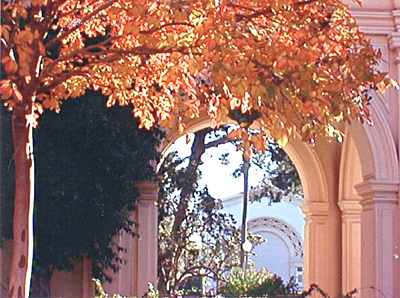 © Rachel B., San Diego, CA