The Admissions Process
MAG

I feelordinary and defeated. I am attending "An Afternoon with the University:Information for Prospective Students and their Families." The room is filledwith apprehension and ambition. I look around. Most of the families seem okay,though a little formal and overly polite.

My father, superfluous in thesesituations, is reading about the cost of food at the university. My mother,grinding her teeth, is eavesdropping on every conversation to see how her babyboy compares with the competition. A nearby couple is discussing how neat theirdaughter's college consultant is. Not neat as in tidy, but neat as in slang forwonderful. I look at my mother. She looks at me. I ask if she would like topartake of the assorted beverages at our disposal. She replies dryly, "Thatreally would be neat."

I check out the other students. The majoritylook like me: anxious, overwhelmed, full of good and not-so-goodintentions.

There are a few cocky and relaxed kids. They seem to know thesecret handshake and expect nothing less than unconditional acceptance andapproval. I'm usually one of them. Today I feel like a loser.

I try tomake a connection with someone. I recognize a face. She is crouched in her seatin the fetal position, eyes darting from one person to the next. I went to Hebrewschool with this girl; she was competitive and humorless. Looking at her mother,I can see why. She is grim-faced and on her lap is a fresh legal pad. She ispoised for her daughter's success, her face contorted by the intensity of herconcentration. The speaker is talking about the university's skyline and, yes,the mother is taking notes.

The speaker is blonde and optimistic. I am notblonde, not optimistic. I distrust her immediately. She's just a recruiter, Ithink. She has to make the university seem like the best in the world. This isjust standard public relations. It turns out this is Roz, the assistant dean ofadmissions. I hear her say things like, "The university wants to acceptyou." I feel relief. It is short-lived.

We break after an hour. I gooutside to smoke a cigarette. Yes, I smoke. Roz said to be self-effacing. Believeme, nothing wears you away more than smoking a cigarette in a crowd of "topten-percent" students who know the health hazards of tar and nicotine andwould never disappoint their parents that way.

So, we're all standingoutside. We assume the "Don't ask, don't tell" posture about collegeadmissions. This is killing me, so I speak first. I try to get someone to admitsomething. Bad news. I find out one guy from my high school might apply earlyadmission. He has higher SAT scores, a lower GPA and an equal number of APcourses. Miss Fetal Position is applying early admission to Penn. Good.

We go back inside and Roz gets down to it. She tells us what we need to get inand is as straightforward and gentle as possible.

I leave the banquet andgo home. I rip up my essay, the one I now know relegates me to the reject pile. Iwrite a new one.

I show them how insightful and clever I am. Myself-doubt is endearing, never annoying.

Later, it occurs to me to consultmy unopened copy of Essays that Worked. I see a chapter entitled "EssaysAbout the College Application Process." I read the following: "Weunderstand that essays about the admissions process are becoming more common.Often, they are the lazy way out. That is, the applicant can't think of a goodtopic, so he writes a clumsy, silly piece about how brutal it is to apply tocollege." Uh, oh. I feel ordinary and defeated.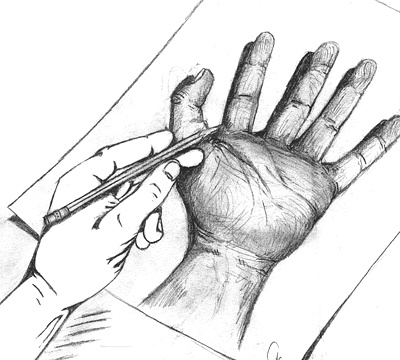 © Casey C., Rockport, ME