The Ear Eater
April 30, 2018
On a dark, cloudy day near noon, I came downstairs for lunch. The day before it had rained, so everything was wet outside. As I ran down the steps, I saw my mom relaxing on the couch, working on her computer. I bugged her shouting, "I'm starving and going to die." As I was bothering her I played with my white and brown fluffy dog, Steiner, a little fur ball Pomeranian he is. While he chewed on a charcoal black sock, I took it and threw it across the room. We play fetch. I fake threw the sock a few times, and he chased after nothing, looking around for my sock. Soon, he figured out what I was doing. We started to play a little tug of war with it. I plopped on the floor on my stomach, so when I ripped the sock from Steiner's mouth, he tried to dig at the floor under me.
After doing that for a while, I think Steiner started to get annoyed with me because he started to get more vicious. The next time I ripped the wet sock from his mouth, I hid it under my chest. Steiner went straight to digging at my neck; then he changed his mind and bit my ear. I freaked out and shoved him away which was a huge mistake. Steiner latched down on my ear, so when I pushed him away, it ripped my ear. As soon as it happened, I stood up and looked at my mom then looked down at Steiner. He was chewing something in his red mouth. He had a piece of my ear in his mouth - a piece of my ear! I cupped my left ear hand over my ear to check to see if it were bleeding; my ear felt floppy and wet. I could tell it was bleeding. I thought to myself. I wanted to punt him across the house. I wanted to punt him so far. I felt sick to my stomach, as I watched my own dog munching on my ear.

Then I glanced back to my mom and yelped, "Mom, am I bleeding?" She looked at my ear and saw that I was gushing out blood. She muttered, "Yeah you're bleeding. It's not that bad." We went to the bathroom, and I looked in the mirror. I looked at my mom, and I noticed something about her face. I started to shriek, "Whoa!" Her face started to look all blurry, I screamed, "Mom! Mom!" Then everything went dark, and I don't remember anything.

I woke up with a soft pillow under my head and feeling way better than I did. She told me, "You were only out for a couple minutes, I am going to take you to the emergency room." She picked me up off the ground and took me to the car. She went back inside to get me some pretzels and red Gatorade for a snack.

We left for the emergency room. The whole way there I started to feel light headed again, unable to see clearly. When we arrived, my mom dropped me off at the door, and I hobbled to the window with my ear all messed up, trying to check in. Soon after, my mom rushed in behind me. They told us to it would take a second, so we sat down. After a minute a nurse came into the room and called my name.

I went with the nurse to a room where I sat in a chair beside a desk. I still felt lightheaded and felt as if I were going to pass out again. The doctor had me lay down on the table. As I was on the table, I couldn't move anything. I couldn't even speak; lying there paralyzed made me feel completely defenseless. After a minute of being paralyzed, I could feel myself again and moved around. The doctor then told me, "We are going to have to glue it back together." I got ready for a lot of pain and agony. I lay down on my side, so the doctor could start to glue it back together. As soon as she touched my ear with the glue, it felt like she was using sand paper on my ear. Although the pain was horrific, I didn't whine or cry, I pushed through the pain. It felt like it was a century before she stopped. After getting it all glued up we were on our way. I definitely learned something. I now never lie down on the floor with my dog near my ears anymore.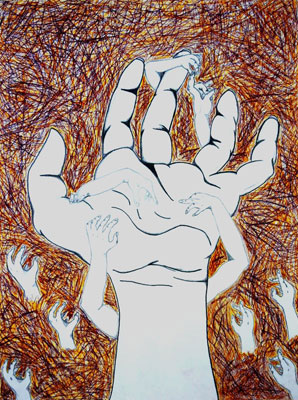 © Ariana R., New Orleans, LA