Where Im From
February 21, 2018
I am from family vacations.
From wiggling the palm trees,
sliding down the mountain side.
Only my family lives on a plane.
I am from airplanes.
From the overpriced airport food,
the uncomfortable seats we are assigned to sit in.
Where im sore for the next three days.
I am from the grand living room where people are in "ah."
From music bursting out of corners,
my sister and I spinning and twirling.
We tripped over our two feet not danced. 
I am from the girl den.
From my sister and I throwing sheets and pillows together,
us creating another world war.
Over wearing each other's clothes.    
I am from the grinding sound of tools on teeth.
From my mother's and father's workplace's,
the reclining of the work chair.
I cried while my mom placed tools in my mouth.
I am from silver platters.
From me having the choice to take it or leave it,
we pick our own special paths.
Make a life for myself.
I am from gathering family in my home.
From late night boat rides towing around the calm water,
to family dinners us all gathered around the dinner table.
Where the smell of my mom's delicious cooking is like heaven.
I am from the rocking and swaying of the waves
From the boat out on Okauchee Lake,
filled with long swim days.
Where we don't go in till dark.
I am from sun bursting through my bedroom window mornings
From waking up for school,
waking up to hop on the airplane.
For our neverending amounts of family vacations.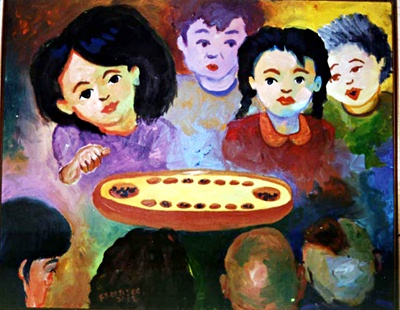 © Fransisca A., Surabaya, Indonesia