Warm-heart
October 10, 2012
Throughout my life I have made it my own personal mission to not become a victim of life. I will be the first to admit that I have not had a cookie cutter lifestyle, but I wouldn't trade it for the world. Not for wisdom that I've acquired from learning what it's like to have to adapt.
Life, for me, was what I would consider normal for the first half of my life. My parents were married, lived together and pretended to be happy for the family, two brothers that would torment me as brothers do, and a dog. A typical picture perfect American family. But behind every picture is a story, a hidden reality that we shamefully hide behind the fake smiles.
Behind the perfectly posed act the photographer helped us create, Cancer began ravishing our household from within attacking the man of the house. As we watched the cancerous cells tear through his body, we slowly watched a man forget him self and everything he once stood for. Watching the terminal man, finally losing the life force, he died when I was 10.
To fill the hole my father took from me with his last breath, I did everything in my power to show him that he will not be forgotten. Some call it personal motivation; I call it seeking internal perfection, because I went on a mission to be the best person I could be without forgetting the "me" that I use to be. Academics, athletics, personal relationships, it didn't matter I wanted to be like the little engine that could. I was not going to allow my tragic circumstances allow society tell me what I could or could not do with my life. "I think I can, I think I can," being the motivation I've used to accomplish and strive for more out of life.
As much as I try, perfection is not obtainable by any one human being despite how much we try. I'm afraid to lose those close to me, because I know personally how quickly somebody can be gone. This has caused some of my peers to think that I'm cold. I care more than anyone could ever understand so I work daily to show the warm heart and genuine concern for people that I have always had. But how can you stay warm-hearted when the cold grip of death comes uncomfortably close?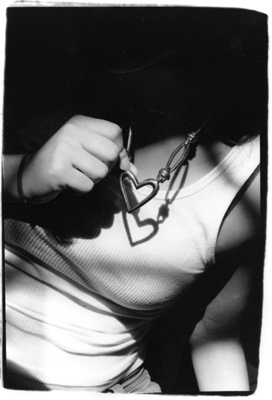 © Julia R., Bethesda, MD