Atlantia • Ally Condie
MAG
September 14, 2017
Ally Condie, author of the international-best-selling Matched series, has taken dystopian fiction underwater in her book Atlantia.
The story begins with Rio and her twin sister, Bay, participating in the ceremony of the Divide. The girls must choose between two fates: staying in the underwater world of Atlantia, called the Below, or sacrificing life as they know it to live in the Above, where there is sun and sand. Rio wants to go to the Above, but wrestles with a moral dilemma because Bay is begging her to stay Below after their mother's death.
Rio makes the decision to stay Below and is shocked when Bay decides to go to the Above after all. Abandoned, Rio has nothing except her powerful Siren voice and her Aunt Marie to help her. She must piece together memories, questions, and a plan to save her life, in order to bring back her sister, avenge their mother's death, and find out why the city is crumbling under a suspicious Minister.
Ally Condie has always been one of my favorite authors because she makes her protagonists come alive by avoiding stereotypical caricatures. Her descriptions of Atlantia lead the reader into a dystopian underwater world. With vivid scenes, new mythology, and reference to the Greek myth of the Sirens, this young adult novel is one you won't forget. The heroine is strong in heart, body, mind, and soul and can be a role model for today's female teenagers and women. Not only that, this story has many allusions to Hans Christian Andersen's, "The Little Mermaid" and the myth of Atlantis, which are both reflected in the complex plot.
In addition to themes of sisterhood and family, there is a message about preserving nature so that life can be sustainable. As you read the story, you discover that Atlantia was created because polluted air caused problems in people's lungs. This story shows that if we continue to pollute the air, we might need to find a way – possibly a real-life Atlantia – to save our lives.
Another theme revolves around respect for people's choices. Rio believes that making decisions based on free will is superior to coercing someone to do what she says. Another theme is to be careful of stereotyping or assuming things about others. For example, Rio believes that her mother was the kind sister and Marie was the evil sister. But as the story progresses, Rio begins to realize that her mother hid secrets and that Marie had sacrificed so much to conserve Atlantia. The book also contains a bit of romance. Unlike the instant or protective love in "Hunger Games" or "Twilight," Rio's love interest is a friend with a common purpose and an unusual gift.
Sadly, this book hasn't gotten as much recognition as Condie's Matched series, but it deserves to be read by many. It can teach both teens and adults about preserving the environment while entertaining them at the same time. I recommend Ally Condie for anyone who loves dystopian fiction, and I recommend Atlantia to everyone.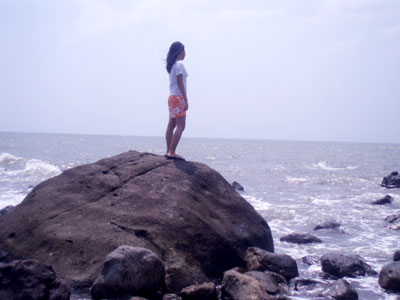 © Grace L., Bacolod City, Philippines