Anxiety
February 7, 2018
It's a heavy feeling that starts in your chest.
Right in the middle of your heart.
It spreads outward to the rest of your body and gets trapped in the middle of your throat, tying itself into a knot and you ask yourself things like why?
How?
If it's all in my head then why can I feel it everywhere else in my body?
It travels downward too.
Into the pit of your stomach.
It wrings your insides like a wet towel. You can't eat. You try.
But even the salt on a cracker can make you feel sick.
It doesn't matter anyway, because you're too distracted by everything else around you to think about food.
It's like God's got his finger on the volume and he's turned it all the way up.
You swear you can hear the footsteps of the c***roach that's crawling across the floor you've been neglecting to clean because how can you give a damn about anything when you feel nothing?
Your fingertips are numb and your hands shake like you've lived too long a life, as if each vibration is trying to match the speed of your heartbeat.
The same heartbeat, by the way, that you try to calm with cold showers.
It doesn't work.
You, an almost grown adult, have to sleep holding your mothers hand.
Even then, you wake up in the night, afraid of who knows what.
You have to watch the sadness in her eyes as she stares at a reflection of herself in her college years, see the blame on her face when she chastises herself for not doing something about it sooner, hear with unwavering certainty the ache in her voice when she apologizes to you as you cry into her shoulder.
You plead to her, asking her why it had to be you.
She cries too, unable to answer.
She tells you it will get better, and even though it doesn't feel like it will you have to believe her, because you don't want to believe it will get worse.
It's a heavy feeling that starts in your chest.
Right in the middle of your heart.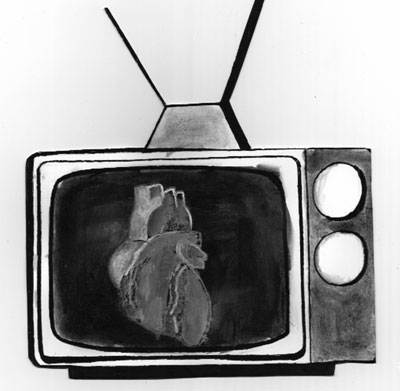 © Brooke S., Indianapolis, IN