Moving to Fall
October 30, 2017
Orange, brown, red, fall.
Crunchy leaves,
Pumpkins, gourds.
Crisp, cool air.
Sweatshirts, long socks,
Warm boots, scarves, and hats.
Goodbye to our sandals.
Gradually getting colder,
trees emptied.
Combines collecting crops.
Days getting shorter,
houses growing warmer.
Pumpkin spice everything.
Plants dying along summer spirits.
Indian corn, delicious soups,
Cinnamon apple and pumpkin pies.
Getting lost in a corn maze.
Jump in a pile of leaves,
harvest apples from the apple trees.
Carving pumpkins with funny faces
watch everyone's favorite,
Hocus Pocus.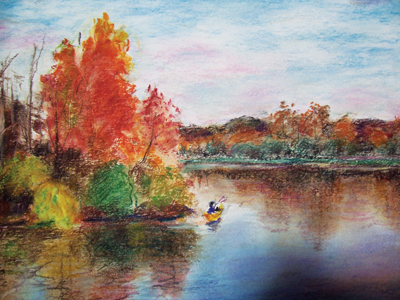 © Xiao H., Naperville, IL