Masquerade
August 31, 2017
The smart young girl puts on her mask,
braided with pomegranate ribbon,
dipped in piano-key-ivory satin.
Through her deep river eyes, the world is only black and white,
her raspberry lips exposed but her breaths shallow and uneasy.
She cannot meet the world,
because she hides behind her gaudy paper mâché mask,
expensive lace, ribbons and shine.
She finally rehearses her "how do you do" enough times
to take a step into the sweeping velvet ballroom
and live up to her striking masquerade.
But the oak grandfather chimes twelve
and her daffodil carriage arrives.
Disappointed but mostly relieved to go home,
she goes to remove her heavy, heavy mask
but there is nothing under the charade:
the smart young girl is empty.
She didn't try hard enough, wasn't smart enough,
the pretty mask won.
She didn't muster the courage to meet the dashing prince,
she didn't leave her glass slipper behind,
and does not believe she is beautiful.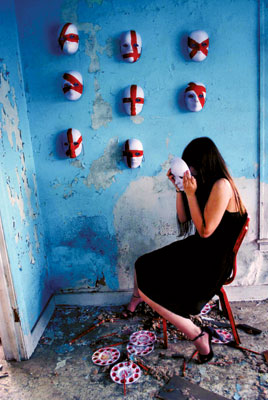 © Narongsukchai T., Sachse, TX