Escape
MAG
November 22, 2016
The Los Angeles skyline is silent
outside the window tonight. Neon signs,
flicker flicker. Wind—does not rattle the leaves.
I came looking for seas of sun and spa,
gull calls, a sky brimming with bliss,
not the concrete or night heat
burying the apartment like death. Bodies
huddle around a plastic radio broken
on the coffee table, party beat frozen
like a lamb heart sacrificed to some lab in Boston
where a boy or girl in gloves methodically
stabs its cold aorta to pieces
under the circle of sterile hospital light.
Somewhere in the universe an old god
still hunches in his starry throne,
you are nothing but neuron dust.
Lying beside a petroleum-stained curb
my favorite poet cringes and moans for his needle.
So I look at the bags by the door.
I gaze at the city lights outside dotting a web
all the way to the ghost coast where
late-night adrenaline, faces and connections,
the painstakingly-carved words I created—
left swimming into a black hole by my bed.
Back then I still had a scrap of something.
I think it's time to go home.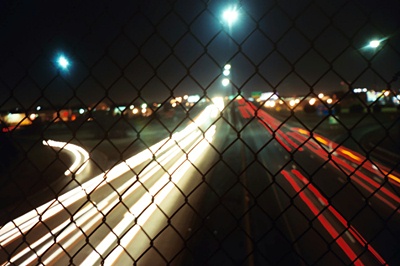 © Jordan L., Wichita, KS