Do It Right
September 16, 2016
Uncertainty and
Nervousness.
Anxiety laced
With something
Mimicking cocky
Confidence.
You pulled me
Close
And quickly
Kissed me.
It was rushed
And sloppy,
And just like that
You turned and
Started to
Walk away.
I'd been so shy
Before then,
Scared to make
The first move.
But everything
Melted away
As I smiled
And said simply,
"Come here."
And it was there
Amongst the books
And withered pages
That I tugged
You over
By the shoulder
And held you
Close to me,
Kissing you
Softly.
Accurately.
I'm not sure
How long
We stood there
Between the shelves
And alphabetized
Collections,
But when I pulled back
Your eyes were wide.
"Whoa," you breathed,
Catching your breath
As a smile tugged at
The corners of your
Mouth.
And I smiled, giggling
When I told you to wipe
Away my lip gloss
As it shimmered unfittingly
On your lips.
You swiped it away
With the sleeve
Of your black hoodie,
No doubt blushing
Under what you try to
Make out as fortitude.
Later I texted you,
Waiting for class to start.
"If you're going to kiss me,"
I teased,
"Then do it right."
And I knew
Without a doubt
That the next time
You would.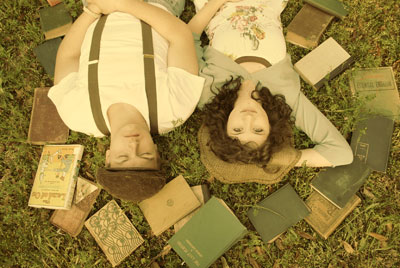 © Gabrielle A., Pensacola, FL