Teddy Bear
March 3, 2019
A child's ageless best friend,
The comforter during the plague of night,
A visitor in the pretending hospital,
The one toy that can be anything the child wants.
Going through complex plays, long stories, adventful games, and make-believe,
It is the Jack-of-All-Trades.
Under the tent made of blankets,
Reading under the flashlight,
After bedtime in the dark,
Don't worry; it won't tell Mom.
A fabric companion similar to the family Ursidae,
Inside the dusty, pine smelling box,
Ready to play with its close friend again.
Sweet and bitter memories as years past by,
The child is growing to a giant,
Lines are deepening around the eyes.
No matter the physical changes his friend has,
The toy still waits,
And waits,
And waits,
And waits,
For his best friend to come back,
Pulling out the sewn handmade blankets,
And travel back to the land of fantasy.
In the old, shed-like room with a window
Revealing the top of the trees.
But one hot summer day,
The toy felt shaking and thumping,
The roaring of a lion,
Jumping occasional,
Then all went silent and still.
The toy then hears soft cries and a rocky-sounding thump.
Then the lion roaring sounds and starts to fade away.
Suns and moons passing by,
Through the torrent of rain and burning sunbeams,
A sudden shadow loam over the toy,
A hand of God picking the toy up,
And cuddle it.
A familiar but old feeling grows in the toy's heart,
Almost like dejá vu,
But the person doesn't look like the child.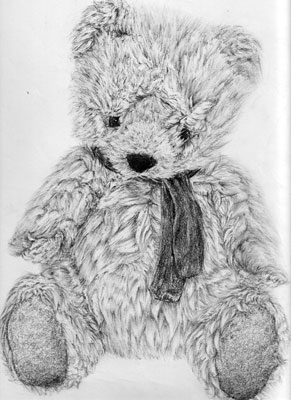 © Sarah F., Birmingham, United Kingdom