A Giant Disaster: Why Benching Eli Manning Made No Sense
January 26, 2018
A Giant Disaster: Why Benching Eli Manning Made No Sense
"I'm going to coach until my key card doesn't work," said former head coach of the New York Giants Ben McAdoo. After a horrible and underwhelming season as the head coach of the New York Giants, Ben McAdoo, as well as general manager Jerry Reese, have been fired from their jobs. They can now throw their key cards away in the garbage as the Giants threw their season away, ending with a record of 3-13. All in all, this 2017 NFL season for the New York Football Giants has been utterly chaotic. When everyone thought the season couldn't get any worse for the Giants, they found a way to mess it up even more. Eli Manning, 2-time Super Bowl champion and starting quarterback for the New York Giants for the past thirteen seasons, was benched in Week 13 for backup quarterback Geno Smith. Not only did this announcement send shockwaves across the NFL community, but it might go down as one of the most idiotic and disrespectful decisions any football organization has ever made. This was a cowardly act made by a general manager and head coach that were barely hanging onto their jobs. McAdoo and Reese had the temerity to bench a hall of fame caliber quarterback for Geno Smith who has been called out numerous times for his immaturity and poor performances. Using Eli Manning as a scapegoat to this embarrassing season is absolutely awful. "I honestly thought it was pathetic, really," said current Los Angeles Chargers quarterback Philip Rivers when he discovered this information. It is unbelievable to think that a player of Manning's stature and class would get benched for a quarterback who is an interception-magnet and has been appalling throughout his dismal career. Geno Smith starting over Eli Manning is disrespectful to not only Eli Manning and his teammates, but also to the fans who support this prestigious organization.
This blasphemous decision has sparked immense controversy. Renowned sports radio host Mike Francesa responded to this breaking news when he said, "And now you're gonna tell me that your plan is to go to Geno Smith? That's the game plan that's gonna beat the Raiders this week?! You gotta be kidding me! You can't run this clown out of town fast enough." Mike Francesa brings up a great argument. The Giants tarnished their chances of beating the Raiders by putting in their backup quarterback even though Manning was clearly the better option. Despite the fact that Eli Manning has struggled over the past four seasons, why bench him when you only have five games left in the year? Not to mention, they replaced him with a buffoon who lost his job right next door at the New York Jets. Eli Manning is still an average starting quarterback in the NFL. He threw for 19 touchdowns this season and recorded 3,468 passing yards which ranked 15th out of all the NFL quarterbacks. Over his entire career, he has thrown for 51,682 passing yards, 339 touchdowns, and has a passer rating of 83.5. Geno Smith, on the other hand, has been completely dreadful. In the 2013 NFL season, he threw for only 12 touchdowns and had an astonishing 21 interceptions. Admittedly, Eli Manning isn't a top-tier quarterback anymore and has passed his prime. He has regressed significantly since he won the Super Bowl in 2011. However, if somebody actually thinks Geno Smith is better than Eli Manning, then they definitely do not know anything about football. Geno Smith is downright atrocious and has accomplished nothing in his career. He does not possess an ounce of Eli Manning's skill or professionalism. If Jerry Reese and Ben McAdoo actually did their jobs correctly, Manning wouldn't be performing this badly. The Giants have no offensive line, no running game, and an injury-plagued wide receiving corps. What looked like an NFC Championship caliber team has turned into one of the biggest jokes in the entire NFL. There is a multitude of problems with this dysfunctional team that has caused Manning to underachieve. They have one of the worst left tackles in the league in Ereck Flowers, cornerback Eli Apple has had on-and-off the field issues with his teammates, and wide receiver Odell Beckham continued to act like a diva with his controversial dog-celebration. All of these factors have resulted in a historically pathetic season for the Giants. Eli Manning statistically isn't a top quarterback, but that is somewhat due to the resources by which he is surrounded.
This is the end of an era for the New York Giants as they are possibly moving on from Eli Manning. They are entering uncharted territory and are in the market for a new starting quarterback. Geno Smith, who obviously isn't starting quarterback material, and Davis Webb, a third rounder in the 2017 NFL Draft, most likely won't be the long-term solution for the Giants. With the second overall pick in the 2018 NFL draft, they have the option of drafting some hot prospects like Sam Darnold, Josh Rosen, Baker Mayfield, and Josh Allen who all have the ability to become franchise quarterbacks. They can also possibly acquire a veteran quarterback in free agency. Although it is time to move on from Eli Manning, the way that the Giants are parting ways with him is barbaric. Not only did they replace him with Geno Smith against the Oakland Raiders, but they then started Eli Manning the week after tarnishing his prestigious 210 game starting streak for no reason. Eli Manning is football royalty and does not deserve this treatment from a horrible coach and general manager. He has given everything to this franchise and more. The Giants should be ashamed of themselves and apologize to Eli and the rest of the players. Last year, the Giants had a spectacular season ending with a record of 11-5 and making it to the postseason playoffs. However, this season has been the polar opposite as they have only managed to win 3 games. Obviously, there are numerous factors for this such as the injury of superstar wide receiver Odell Beckham Jr and the inferior offensive line, but McAdoo and Reese should receive most of the blame especially after benching their franchise quarterback for over a decade. New changes are coming to this team. Next year, McAdoo and Reese will be gone for good and the Giants will have to start from scratch. New coach, new general manager, and maybe even a new quarterback. The Giants have shown some signs of hope by getting former Minnesota Vikings offensive coordinator Pat Shurmur as their new head coach and former Carolina Panthers GM Dave Gettleman as their new general manager. Nevertheless, Shurmur and Gettleman are now faced with a lot of problems that need to be addressed immediately. Undoubtedly, this decision has been handled atrociously as McAdoo and Reese will go down as the guys who benched the great Eli Manning.

Works Cited
Lauletta, Tyler. "Legendary Sports Radio Host Mike Francesa Melts down over Giants' Decision to
Bench Eli Manning." Business Insider, Business Insider, 29 Nov. 2017,
www.businessinsider.com/mike-francesa-melts-down-eli-manning-2017-11.
Leonard, Pat. "Philip Rivers, Giants Teammates React to Eli Benching." NY Daily News, NEW YORK
DAILY NEWS, 30 Nov. 2017,
www.nydailynews.com/sports/football/giants/giants-teammates-react-eli-benching-no-unto
uchable-article-1.3666321.
"New York Giants." Eli Manning: Career Stats at NFL.com,
www.nfl.com/player/elimanning/2505996/careerstats.
"New York Giants." Geno Smith: Career Stats at NFL.com,
www.nfl.com/player/genosmith/2539335/careerstats.
Schneier, Dan. "Ben McAdoo New York Giants Head Coach Is Not Worried about Job Security." Ben
McAdoo: I'm Going to Coach until My Key Card Doesn't Work, 247sports, 3 Dec. 2017,
247sports.com/nfl/new-york-giants/Bolt/Ben-McAdoo-Im-going-to-coach-until-my-key-car
d-doesnt-work-111690343.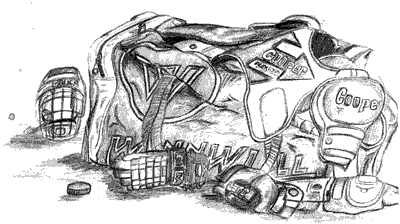 © by Casey C., Rockport, ME