Living Large
May 5, 2008
What is it about water parks that gives people the desire to let it all hang out? America is the land of the free, home of the brave. I'd consider it brave to be seen in public like that. The land of opportunity surely makes plenty of buffets available, but gyms aren't exactly in short supply. So why are so many Americans overweight? The ratio of fast-food options to affordable healthy alternatives is probably a factor. I had to dial Nancy Drew for that one.

From an early age, we Americans must fight an uphill battle with the fast-food industry. This is often blind warfare. They have the upper hand, attacking children with cute gimmicks and promises of a toy with their meal. How are we supposed to fight that? The addiction sets in young. We're not taught about nutrition but convenience and the greatness that is the quarter-pounder with cheese. This bond could prove to be unbreakable. And it is certainly ­inescapable when you find fast-food restaurants on every corner. The hopes of adopting good eating habits when we're all bred into a world of trans fats on a sesame-seed bun are slim to none.

More than what we eat, it's how much we eat. The supersize is just 50 cents more, so why not? Because the large dinner carries over to a larger breakfast and a larger lunch, and a larger you, that's why!

No doubt about it, America puts a whole new twist on "living large." ­Portion sizes are outrageous. When Americans decide to eat a healthy meal, they are likely to overeat. And our bodies react just the way biology tells them to – we don't waste the extra sustenance but turn it into a biological take-home box we can't seem to throw out. If we were in danger of sudden food deprivation, this fat storage might come in handy, but for most of us it just provides us with every year's New Year's resolution.

And as we grow older, the fast-food ­industry's tactics are enticing. Dinner for under five bucks? That's almost unheard of! When you're running short on cash and time, the dollar menu is the pot at the end of the rainbow. A pot filled with surprises you'll find down the road, like heart disease, diabetes, sleep apnea, and high blood pressure.

Believe me, the money saved eating fast food is not going to ­cover the hospital bills when you're rushed into open heart surgery. Likewise, the convenience of those fries is going to be long gone when you're on bed rest for three months, waiting for your sternum to heal after they sawed you open. Don't worry though; you can walk away from the experience with a cute little scar across your chest – if you're lucky.

With a culture so gung-ho on the idea of cheap convenience, it's a wonder the entire population isn't overweight. The country would certainly bide well with a reduction in fast food, and I'm sure our water parks would benefit too.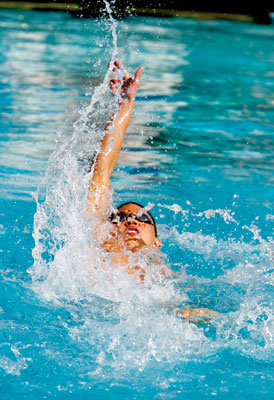 © Wenting C., Fremont, CA