When Tables Turn
April 17, 2012
Bullying doesn't always start with the bully. Sometimes it starts with the victim. A victim with too much pride ruins his own life. He doesn't know but he's already bullying himself. When it goes out of hand, he brings others to work with an unknown plan that leads to bullying. When tables turn, the others new to the plan turn out to be the bullies.


I had a classmate. On the first day of class, I can see how much she wanted to have friends. She always joins groups for conversations. I can see that she fits well with the crowd only to find out later that many people despise her. I heard stories about her, stealing other people's friends or sharing unbelievable stories with the crowd. I didn't believe it at first because it sounds weird. I tried to imagine her situation, telling people lies. In my mind, only people with no common sense would believe those stories, and I know that she has one. All people have.


One time she joined me and my friends for lunch. The thought of her as a friend stealer and a story maker never left my mind. We started a conversation about boys and relationships. She told us that she once had a boyfriend from Singapore who she broke up with. That statement we can consider true. There are many factors that she could have a boyfriend outside the country so I didn't judge her. The next day, she told us that she's drunk because her ex-boyfriend came to her house with another girl and then returned back immediately to Singapore. My friends were already suspicious of her, and so was I. We couldn't believe something like that happening, especially the drunk part. You are not allowed to drink when you're 17 or below – and we were only 14 back then. She doesn't even look like she's drunk. My friends had talked about her attitude over and over and we decided to leave her alone and do what she likes. She told us a story about her going to Korea dressed as a guy like the show Hana Kimi. Who would believe that? But we just left her alone.


I was growing pissed off every time she lies and I decided that it's time she changed. I talked to her. I told her that we know everything. She got mad at me. I left her and my friends' group. My friends think she's pathetic so they said it's okay if they pretend to be her friends but I just can't stand it when I'm with her. My friends always make sure that they have time for me even though they have her on their tails. One of my friends asked me for help once because she got mad at her for not accompanying her to the mall. She made a big deal out of it. Because I'm much more pissed off than before, I decided to bully her. I have other friends who got along with my plan. I know it was wrong but this is how we all know would make her learn her lesson. Our plan was to create a character and make it a reality. Our character's name was Ben and my friends told her that Ben was my best friend. I always tell her make-up stories about Ben and how he's fallen in love with her. Because she was desperate, she accepted the offer of being Ben's girlfriend when we asked her to (as Ben). After sometime, I grew conscious of the fact that I was bullying someone so I decided to quit the Ben act. I (as Ben) broke up with her. At school, she told us that she didn't cry because she's the one who broke up with him. Too much pride, I thought. She even called a batch mate of ours a "freak" because of the said freak's looks. When the rumor spread, all the people are saying one thing, "The freak-caller looks more of a freak than the victim." The truth is, she's also judged by her looks.


Until now, she's still continuing her schemes as a friend stealer and as a liar. We talk to each other again but we're not that close. All the people are either pretending to be nice to her or not talking to her at all. I can't say that I'm not a bully because I did bully her. But that's because of her pride. For now it looks like all the people are bullying her but the truth is she's bullying herself.

To all those who can read this, ask yourselves this: "Am I letting my pride overcome me?" If you'll look at the situation there is no point in lying or letting your pride handle the way you are with people, truth always prevails. You'll only ruin yourself. Whether you're the bully or the victim, there's always a reason. And the reason starts with you.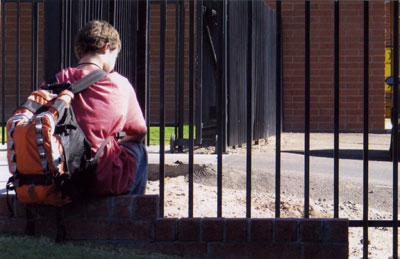 © Molly L., Phoenix, AZ