Bye, Charlie
February 8, 2018
Nura thinks Charlie is leaving her for Zai, but Charlie must leave for another reason.
----
The mattress lifted me up an inch closer to the ceiling.
Charlie had woken up.
Charlie was going to brush his teeth.
Charlie was going to have a banana for breakfast.
Charlie was going to run for 15 minutes.
Charlie was going to have a triple-shot latte macchiato.
Then Charlie was going to take off with Zai.
Charlie wouldn't come back.
----
Nura
I slipped, numb, out of bed when I heard the front door click closed. The morning breeze didn't raise the hairs on my exposed skin today - I was heated up, with anger, with anticipated grief, with tears that I didn't want to let go. I shuffled down the hall, through the blazing yellow living room, and into the kitchen.
I frothed steamed milk until it foamed into a silky cloud, and then set Charlie's mug under the spout of the Nespresso machine. I winced at the sudden noise of the machine as the espresso shot out and watched through the glass body of the mug as the dark espresso penetrated the luscious cream - at first hesitant to be engulfed in something so delicate but choosing to more or less become one with it. Three distinct layers revealed themselves - milk, espresso milk, and foam. I added a pinch of pumpkin spice and a drop of vanilla.
Charlie used to joke that the secret I add to his coffee is love.
In some way, I suppose it is.
Charlie
The bittersweet fragrance of coffee greeted me in the hall. As it did most mornings.
Nura never realizes that she loves the wrong people.
She never seizes to love those who want to flee.
Nura
"Thanks."
Charlie avoided my eyes, my hands, my voice - if I allowed. As he sipped his coffee I reveled only in the memory of the daily transformation his face took when the morning coffee loosened him up.
I respected his elusion, but wondered, ever so much - why was it there?
While he fought to evade my existence, I tried to ignore the clock - time ticking in mockery.
Charlie
8:30. We had agreed I'd be gone by 8:30. No sooner, no later.
8:30, because then I'd be half-awake.
Because I didn't want to remember this goodbye, in all its glory.
Nura
Charlie was trying to protect his wall. The wall was all he had. I understood. I understood he needed the wall to keep from getting hurt.
Why didn't he stay, I wondered, if it hurt so much?
Charlie
I wouldn't indulge in her wide-eyed gaze. I did not ask to hear her voice.
They would pierce through my anger and confusion.
I could not let myself fall, because then we'd both be in danger.
I had to leave.

Nura
It was 8:27. Charlie was lacing up his yellow Converses at snail's pace. Literally.
He knew those were my favorite shoes of his out of all the snazzy shoes he owned.
They were his only Converses. His only shoes, in my opinion, that embodied his Charlie-ness.
Charlie
8:27. I eased onto the bench in the foyer. I'd managed to ignore Nura all morning, save a polite "thanks".
I know, I'm a bit of a jerk.
It was for the best, though.
It had to be.
Nura
8:28. Charlie was done tying his shoes. He pulled his jean cuffs over the top line of the high-tops.
Casual, yet snazzy Charlie.
I'd miss his class.
No picture, no video could elicit the feelings I felt when I saw Charlie being particularly snazzy.
A tear almost escaped.
Really? I asked my brain. At jean cuffs of things.
Charlie
Zai was a minute early.
Just why Zai? Seriously.
I glanced over at Nura's bare feet, which were glowing pink under the sunlight.
I'd never noticed she had hair on her big toes.
I never noticed her toenails weren't as attentively cut as her fingernails.
The smaller the toe, the more jagged the nail.
Her pinky toenail was barely there.
Her size six-and-a-half pinky toe.
I'd miss her feet. The little details I'd never get to know.
I grabbed my suitcase and opened the door. I paused a half-second before crossing the threshold.
There really isn't a choice, I assured myself. I had to leave.
I wonder if I convinced myself. I always sucked at arguments.
Nura
Charlie stopped. Would he stay?
Charlie
I strolled, left then right, along the walkway, steps deliberate, suitcase rolling beside me.
Nura
"Bye."
Charlie
I didn't look back. I got into Zai's Tesla and we drove out of the neighborhood court.
I wouldn't cry, I promised, until I saw Nura again. If I saw her again.
Nura
Frozen.
I stood on the cusp of the threshold.
Long after Zai took Charlie away.
I stood there.
Frozen.
----
I wasn't really there. I had been lost in the wind.
Life, reality, perception. A cloud settled over them.
Until I could find myself again.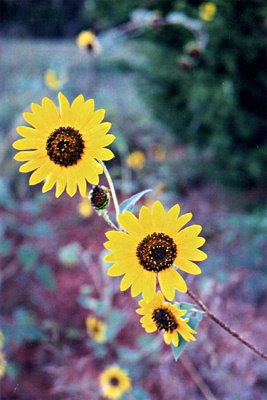 © Megan B., Luther, OK