Never Leaving LA
February 12, 2021
After work one day, me and Grace went to a coffee shop. We order our food and coffee and go sit down at a table by the door. All of a sudden we see a handsome guy walk in through the door of the coffee shop. Me and Grace stare at each other and realize it's my ex-best friend and boyfriend Christian.
"Jen is that Christian as in Christian from high school who broke your heart?" Grace asked.
"Yes, Grace that's him let's just grab our coffee and food to go and run," I explained.
"Jen it's a little too late for that he just seen you and is walking over here," Grace said.
I look over and see Christian start to walk over to our table. I think to myself he looks nice in jeans and a flannel shirt and how his hair looks cute messed up a little from the wind outside. I'm pulled out of my thoughts as Grace slaps me and gives me a look like get your crap together. I can't help but think he got hotter and his smile gets me every time it reaches his beautiful brown eyes. Is it fate or is it, love? I question my thoughts is it, love? I know it isn't.
"Hey, Jen. Hey Grace. How are you?" Christian asked.
Grace said, "Where good we just got off of work."
"Cool, where do you two work?" Christian asked.
Grace stated, "Well, I work at Styles and Kisses. The salon over in North LA."
"I work at Saddle Ranch, the bar, and perform covers and original songs I write," I said quietly.
I went silent and started thinking to myself. Why did I just say that quietly and acted nervously? I can't still possibly have feelings for him, can I? No, I can't he dumped me and I moved on but why doesn't it feel that way? Grace then looks at me, and in her eyes, she is asking if I am okay. I shake my head yes that I'm fine. Christian and Grace are talking about what they did after they graduated from Easley High School. I think to myself if Christian never broke up would we still be together after we graduated. Christian says bye to us because he has to get back to work and he slips me his number and on the note, it says he will come to my next show.
"Jen we need to go so you can get ready for your next show. Do you even know what your singing tonight?" Grace asked.
I said, " Yes am going to sing The Good ones by Gabby Barret and Friends Don't by Maddie and Tae."
"Ok wait why are you singing those songs? You haven't sung those since high school and that was before you and Christian dated," Grace stated.
"Ok and you act like that's a problem," I questioned.
Why is she acting like it's a problem that I am going to sing those songs? I mean she does have a point about me not sing those since high school and that I sang them before Christian and I dated. I am still going to sing those songs because they are good songs.
"Jen it's a problem cause all it would take Is seeing your face for him to go back to you and date you again," Grace yelled.
I asked, "Grace how would you know that because you didn't know him until me and him got together?"
"I know because I am the one who told him to dump you because you were going to move out here to LA and start over," Grace said quietly.
"Ok Grace I think you should leave and I will see you at the show," I said aggravated.
I can't believe she did that to me I was happy with him and she ruins it by telling him to break up with me before me and him graduate. I am going to go to this bar and look my best and sing my heart out because it's what I do best. Who gives a crap if haven't sung these songs in a while.
Later that night I headed over to Saddle Ranch. Outside there were a ton of cars which meant there were a lot of people here tonight. I walk in and head over to the stage and set up my guitar and the stereo system. When I look back up I see Christian and Grace give me a thumbs up for good luck.
"What's up LA I am Jen some of you know me because I play here 3 nights a week," I say.
"Yea," the crowd cheers.
"This first song I am singing tonight is dedicated to someone out in the crowd y'all can sing along with me if y'all would like. So here's to The Good Ones by Gabby Barrett"
"Let's go, Jen," Christian and Grace say in unison
I start to get to the end of the song and the crowd is singing along with me. This is one of the best shows I put on. I look up and look at Christian and he is smiling and sing along. My heart skips a beat and I finally realized I never stopped loving him. I need to tell him before it's too late
"The kind you find when you don't even look one. Anybody can be good once but he's good all the time. He's one of the good ones and he's all mine. He's one of the good ones." I sing.
At the end of the song I take my guitar off and set it down with the microphone and I get off the stage and run to Christian. I look up at him and smile. He looks down at me and smiles back at and spins me around. I stand up on my tiptoes and kiss him. He Kisses me back. I ask him never to leave LA. His answer was I am never leaving LA until you do. The crowd cheers for us and we walk out of the bar to our new life together in LA.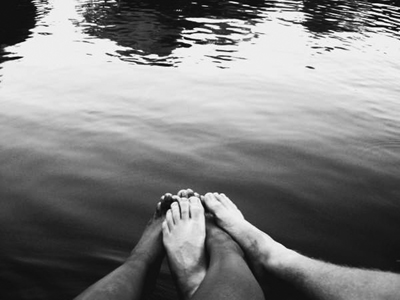 © Michelle W., Ada, MI