4 Years
June 13, 2012
*Kim
I can't believe it has been four years. It seems like just yesterday everything and everyone was happy. Four years ago, my life changed. Four years ago, I lost my daughter. She was beautiful and athletic, the daughter of my dreams. She never had a care in the world, never got into trouble. I visit her grave every day, and I just cry. That is all I know how to do now, cry. I cried in court, in the hospital, at the funeral, silently in my room. I just cry.
*Aaron
I can't believe it has only been four years. It seems like just yesterday I was holding her in my arms. Four years ago, my life changed. Four years ago, my girlfriend died. She was so beautiful and sweet, I wanted her to be my wife. We were always the rebels in town, causing trouble. I wish I could visit her grave. I would say how sorry I am and tell her that she will forever be in my heart. I would tell her that it should have been me, not her. 36 to go.
*Jennifer
Four years seems like an eternity without her. It seems like just yesterday we were talking on the phone or driving to Starbuck's at midnight to buy a mocha latte with two creams. Four years ago, my life changed. Four years ago, my bestfriend died. I loved her as if she was my own sister. She was the nicest and most caring person in the world. I visit her grave sometimes. When I go, I usually sit down Kim and we talk; nothing more than the weather and daily headlines though. I miss her.
*Kim
Court was so hard for me. How could anyone do this to my daughter? I don't know if I was more broken and upset or enraged. The judge was nice, but I still don't think 40 years is long enough. When they told me the cause of her death I demanded they re-identify the body. "My daughter would never do something like this!" I screamed. I was shocked and sad.
*Aaron
I hated court. When I walked in and Kim directed her eyes towards me I just felt an immediate shot of guilt. Her eyes were so cold and dead, like… well like she just lost her only child. I tried to tell the truth, I couldn't really remember much though. I still don't think 40 years is long enough. I wish I could comfort Kim, but in reality we are on opposite ends of the universe. I was upset and guilty.
*Jennifer
Court was like war. I sat next to Kim and tried comforting her, but all she did was cry. I testified the best I could; but it was hard even talking about her. I would get all teary eyed and look up at him and clench my fist to avoid causing a scene. "How could you do this!" I yelled. 40 years definitely isn't long enough. He has no heart.
*Kim
The weeks after court were horrible. I kept getting calls from strangers all saying something along the lines of "I'm so sorry for your loss". I really did appreciate their comments, but with each call the comments just seemed to be getting less and less believable. The last words I said to her were "I don't like your boyfriend." If I would have known she would never step through that door again, I would have hugged her so tight and said "I love you hunny" over and over. I wish I could go back in time.
*Aaron
The weeks after court were like pure hell. I kept getting all of these letters from strangers; I never read any of them because I knew what they would say. I started not to care about my life, because when you are trapped by so much grief you just want to die. The last words I said to her were, actually I don't even remember them. I wish I would've known.
*Jennifer
Weeks went by, after court and stuff, and things started to slowly get back to normal. I went back to school and even though I miss her, I know she's here. Then, I started getting calls from all of these therapists; they all said something like "Grief is a huge obstacle to overcome, but we can help you!". I appreciated the offers, but somehow I knew that none of those shrinks would ever understand.
*Kim
I was sitting at home, paying the bills, when someone knocked on my door. It was a police officer. "There's been an accident.." he said gently removing his hat. Immediately my heart stopped and I went into a frantic shock of chaos and questions. What happened? Is she okay? Please, tell me she's okay! The officer looked me dead in the eyes and said "She's in the hospital on life support, the doctors say she won't last much longer." That was when my "crying" switch was turned on permanently; I haven't stopped since. By the time I got to the hospital, she was already gone. My daughter was gone.
*Aaron
When I came to my senses the next morning, I was sitting in a room. The room was there, for sure, and so was the pain in my leg. An officer walked in and gave me the evilest look on the planet. "She's dead." He calmly said. I didn't quite understand who or what he was talking about. "I.. I think you have the wrong guy." I said, my voice very shaky. "No, you've been here all night. You were at the accident site. In fact, you caused the accident." "WHAT!?" I screamed and went to stand up and run anywhere but the room that seemed to be closing in on me, but was forced back down by two guards. "Your blood alcohol concentration was 1.40, who was the girl riding in your passenger seat?" the officer said glancing down at his notes. Just then, it hit me… I killed my girlfriend.
*Jennifer
It wasn't until the morning after the accident that I found out. Kim called me; her voice gave me the impression that something tragic had happened. All she said was "Jenny, can you please come over right away?" On my way to their house so many possibilities were running through my head. So many, that I couldn't even comprehend them all. When I arrived, Kim and two police officers greeted me. As soon as I entered, Kim busted into tears. "What's going on?" I asked, really worried. One of the officers came over, touched my shoulder, and directed me to sit down. "There has been an accident. Your friend, she's dead." I didn't know what to say; my bestfriend was dead.
*Kim
If you can hear me right now I want you to know that I love you very much and I will never forget you. Someday we will be together again… Someday. I hope God has given you a great life in Heaven, and I want you to know that you will always be the best daughter in the whole Earth. I love you so much. It has been four years, and never once have you left my side.
*Aaron
If you can hear right now I want you to know that I am so sorry. I never wanted to hurt you, ever. I love you so much and you will forever be in my heart. Not a day goes by where I am not thinking of you and the monster I have become. It has been four years; rest in peace my love.
*Jennifer
If you can hear me now I want you to know that I will never find a friend as wonderful and kind as you. I know you are in a better place now, and I know that you are watching over me. Someday I will reunite with my bestfriend, and we will go to the Starbuck's in Heaven and get a mocha latte with two creams. It has been four years, and I have never felt so alone.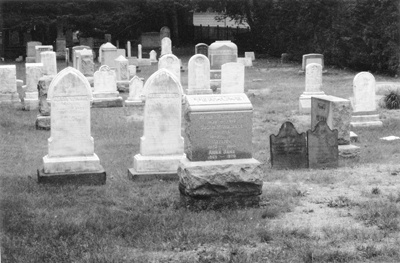 © Chris C., Pequannock, NJ