Jealousy
December 20, 2017
A breeze passed by Sadie as the trees and grass danced in harmony under the sun.  Birds flew by her, chirping delicately.
A glance to her right and she saw him.  Her eyes lit up, but she soon began to feel a much stronger gust overpowering her world.  It hit the trees viciously and brought with it an aggressive sky.  Laughter interrupted Sadie's contentment.
The girl who Sadie did not know laughed.  He smiled with her as they passed.  Somehow, Sadie's sunlight and unannounced rain collided, making a thunderstorm.  She remained where she had sat in the rain, with every bright burst of lightning quickly ending.  Her clear path was now clouded more with each rumble of thunder.
The girl and him looked closer than Sadie had ever been with him.  Sadie turned to the left.  The rain pattered and quickly faded away with its thunderstorm.  The trees and grass moved cautiously, and birds remained on the edges of their nests, ready to fly.  And soon, they did.
This one was different; he saw her.  So she smiled at him and he smiled back as the trees and grass danced while the birds flew by.  Not a single cloud was in sight.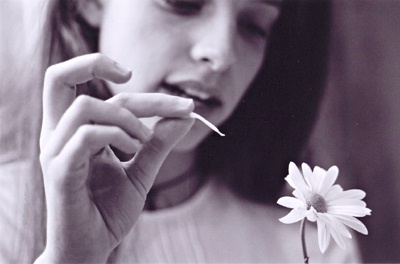 © Emily B., Houston, TX