Home or Heaven
December 14, 2017
"Today is our anniversary. For a celebration I brought her to the beach. We were walking hand in hand on the warm sand. As the sun was setting I pulled her in for a kiss. After we kissed we stared at each other for awhile. We do this weekly since we got married. This has never happened before. The sky started to darken like a storm was going to come in at any given moment. That is when it happened. She started to fall. When she did I picked her up and brought her here. Will she be alright?" Worried about her, I kept thinking of what I could do. Will she be okay, will she survive.
"We can do our best. Your wife has an Intracerebral hemorrhage. Dr. Phillips will do a Craniotomy with open surgery. This means she will do surgery to her brain to fix the damaged vessel ."
The doctor went back to do the surgery, and I went to the waiting room. I went to the waiting room and thought about what had happened or if could have done anything better. I stared at the beige colored walls. The only thing in here was a poster of the anatomy of a human. You could have done better. You tried your best.  I finally got some sleep. The doctor woke me up with news on how her surgery went.
"Excuse me sir. Your wife is still in surgery. She is doing great. Dr. Phillips has removed part of the brain and has drained the blood. She is repairing the vessel now."
"Thank you."
He walked away and I thought of how much she was suffering. She is fine. The doctors are repairing her now. I can't wait. My thought travel through many ideas on what we can do when she gets home. We can walk on the beach again -this time it will be okay. It was now one in the morning.The nurse came back to tell me about the surgery.
"Dr. Philips did the surgery and there were a few complications. Halfway into the craniotomy she started to bleed but we patched her up. We almost thought we were going to lose her. Toward the end she was looking great!"
"Is she okay, did she  make it?"
"She is fine. We didn't lose her. She can go home next week. I'll make you a list of medications for her to take."
"Next week, that is so soon. Thank you so much."
Next week she will be going home. A smile crept on my face and I laughed. Home, more like Heaven.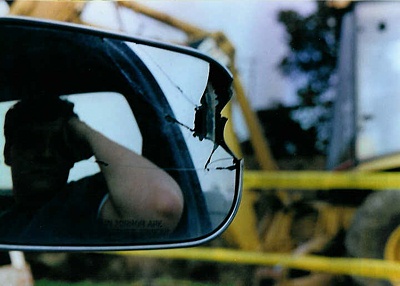 © Matt M., Ponca City, OK