Ender's Shadow by Orson Scott Card
January 3, 2018
'"They eating you up," said the boy. "Eating you up. So you got to kill one. Get him down, everybody as small as me. Stones crack any size head"'(Orson Scott Card 19). Ender's Shadow, by Orson Scott Card, is a story both realistic and science fiction at the same time. It is a retelling of the well-known book Ender's Game, also by Orson Scott Card, but instead of following the main character of Ender's Game, it follows another boy, Bean. Published in 1999 by Tor(New York, NY), Ender's Shadow is a captivating novel with unique plots and settings that thoroughly explores many unique ideas.

Ender's Shadow very obviously has many plots and settings that are a part of the novel, but there are a few that stick out and make this book unique. Beginning with the plot, it is, as I've said before, very unique. It is also very complicated, so here's the general idea: A genius orphan, Bean, growing up on the streets, is found at a very young age by a group working to save the world from a threat from aliens. This group has a project that takes in the smartest children from all around the world and trains them for war. And no, not hand to hand combat, not guns… Leadership. Bean proves himself to be among the best and quickly rises through the ranks, but is always in the shadow of the legacy of another boy, Ender. He eventually becomes good friends with Ender and they work hard, with many others, to save the human race. Ender's Shadow tells an amazing story that keeps the readers turning pages until the end, but that is not all that makes it a captivating novel.

Ender's Shadow delves deep into the world of science fiction. It extensively explores the possibilities that sci-fi worlds offer and uses many ideas already used in other books, but it still stands out, even with those already used ideas. The main reason the sci-fi aspects of Ender's Shadow stand out from the sci-fi parts of other books is because they are actually conceivable. In my experience, when I've read a science fiction book, I've thought 'Ahh, that was interesting' and then moved on, but with Ender's Shadow, it is written in such a way that it actually appears realistic and imaginable in our world today, or at least in 50 years. An attack from aliens is, of course, not probable but everything else, from light speed travel to controlling gravity, is written realistically. Ender's Shadow also explores some bigger ideas, one of which is that good people can be put in situations that lead them to commit to actions of questionable morality. Orson Scott Card weaves many situations into his story which make characters who are clearly good people, commit actions that might not seem moral to an outsider's view. Is xenocide moral, to save another race? Is a good person who unknowingly commits xenocide still a good person? Is it moral to kill one bully to keep a larger group of children alive? Ender's Shadow features all of these situations and much more in the 436 pages that are the story of Julian Delphiki(Bean).

Ender's Shadow is an amazing retelling of Ender's Game and, although it is a retelling, it features many different themes and ideas from the original story. It has an engaging story, while also exploring many other unique concepts. As stated by Publishers Weekly, "The wonders of Battle School and flash suits and children's armies should keep readers turning pages."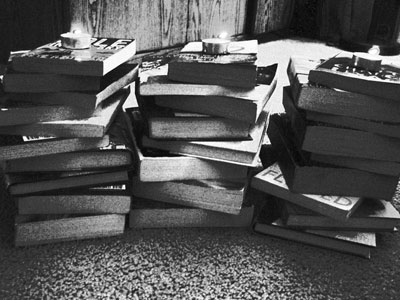 © Alexis R., Clarkdale, AZ