Weightless
September 24, 2016
The moon is reflected across the sea
And nobody but me is in sight
When the waves in the ocean ramp,
And I'm in the moonlight
If the thoughts are about me,
I fly after them, Feels almost weightless
The horizon is wider than the sea
Remote from you and from any problems
Remotely I let myself fall
Weightlessly I love the moment
I can not let go
Seconds pass and I feel like the world revolves
Lune my dancing fears
Can you feel them?
Laughing they turn in circles
You challenge me
Telling me wake up!
The horizon is wider than the sea
Remote from you and from any problems
Remotely I let myself fall
Weightlessly I love the moment
I can not let go
Seconds pass and I feel like the world revolves
I can feel the heartbeat of the earth and it pulsates
I feel as if I am intoxicated and in a trance,
Because the world facinates me
And when the sun rises,
And the day has passed
I widen my wings
Oh let me fly!
Weightlessly I love the moment
I can not let go
Seconds pass and I feel like the world revolves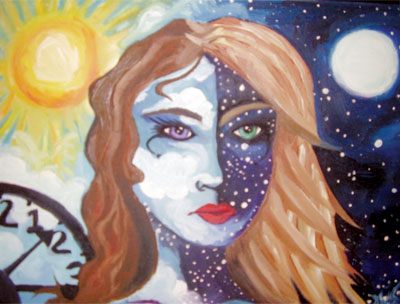 © Amanda S., Attleboro, MA