WORDS FOR YOUR THOUGHTS
November 23, 2009
TO THE ANIMAL, THE BEAST, AND THE CREATURE OF THE NIGHT

THEY RUN, THEY HIDE, AND THEY SHRIEK AT YOUR FRIGHT

YET IGNORANCE IS MY EXCUSE NOT TO KEEP ON A LIGHT

CAUSE WHEN I GO TO SLEEP NO MONSTERS HAUNT MY LIFE.

SO NO REASON TO SHAKE, SHIVER, OR CRY ANY TEARS

MY HEART KNOWS NO GHOSTS, I HAVE NAUGHT TO FEAR

PROOF IS WHAT I NEED, FROM TOUCH, SIGHT, OR TO HEAR

BUT SUCH QUESTIONING CAUSES MY YOUNG MIND TO LEAR.

YERNING TO FIND ANSWERS THATS NEVER BEEN SOUGHT

A CASE TO BE CRACKED AND IM HOLMES IN CERTAIN THOGHT

ACCUSATIONS POINTING FINGERS WITH NO MEANS TO BE CAUGHT

KNOWING ALL THAT IS LEFT IS THE DETERMINING SHOT.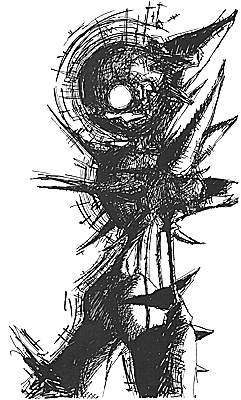 © Tag H., Galesburg, IL