Carriage of the Heart
May 4, 2018
Voice is the medium through which the heart erupts,
Splintering into the atmosphere in a rapid succession of breath… 
It is a horrifying, monstrously beautiful thing,
One that moves fleets across foreign waters, perhaps to never return,
Or names a newborn child with a face as red as rhubarb.
Audio recordings can make the speaker wince;
Afraid of the captured vibrations their words have crafted.
Suddenly, the deafening purpose of their speech is overshadowed
By linguistically-lacking dialect.
They banish the crashing soundwaves into silence,
And attempt to leave a more phonetically pleasing array of sound…   
But do we judge the beauty of a brush as it strokes across a page,
Chipped, faded, stained as it is?
Do we glare at the scandalous state that a sculptor's chisel dares to be in,
Taunt the blacksmith's hammer as it rams into metal,
Or ignore the fruit-laden message of a dying elder?
A semblance of syllables cascades down your mouth,
Past the gates of your teeth and the gracious manipulator that is your tongue.
And yet you fear they will not be heard, your wisdom not heeded,
Due to the rushing vibrations forged in your throat…
The impression you hold over the audience that you serenade is insurmountable.
The beauty of your vocal cords has never been had,
So you must shape it with undying, defiant rapture. 
Voice is the medium through which the heart erupts,
Splintering into the atmosphere in a rapid succession of breath…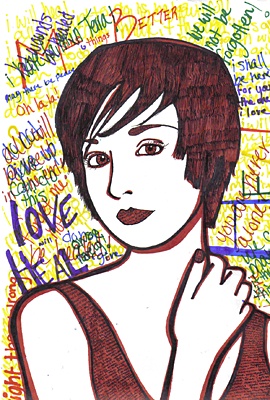 © Sara D., Aiken, SC