We Walk
April 12, 2018
Together let us go,
When the night comes dark and the day is new.
Through cracking paper streets I'll take you,
And soon we will be free.
Soon the choir shall sing no more,
And the drop of the hanging tree will come,
And your mind you say is soft and sore
Will cease and then be done,
As the puppets they walk,
And the puppets they talk.
And down there I shall take you,
Before the choir is no more and the drop is done,
You will lead me to the river,
And the darkness will hide your body
As I touch your mind with mine.
And the river it shall run,
Until the drowning men are done,
And the fishermen are rewarded
With the life they only dreamt of,
And the people starving in the streets
Will be gone from our minds.
As the puppets they walk,
And the puppets they talk.
When the streetlights flicker at twilight,
And we walk hand in hand through the valley,
There will be no twilight
In the valley of the rains,
Where the hanging tree wears its necklace of rope.
Perhaps we could have gone,
Before the darkness came,
But I live in the nighttime,
And you live in it with me.
And the darkness and the nighttime,
It consumes us in the valley,
And together we live in it,
When others here have failed.
And perhaps you will let go,
And the darkness will recede,
But I don't think you will,
So together to the tree we go,
And the river,
And the choir,
And you will never leave me,
Until we leave together.
As the puppets they cry,
And the puppets they die.
And someday through this world,
With the choir and the river and the drop and the valley,
We will hear our mothers singing in the morning.
And until that day, when the road will end, we walk.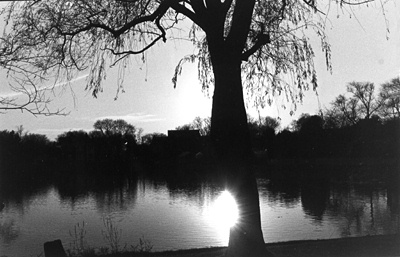 © Chuck K., Marblehead, MA