Ephemeral Butterflies
April 9, 2018
F  l  o  a  t  i  n  g.
Humidity envelops you, like a blanket.
You shed your coat cocoon and
tiny fingers reach out
towards captivating creatures.
S                           g
   w                    n
       o              i
            o    p
Colors swirl.
Azure, violet, amber, fly down
and proboscises prick awaiting flowers.
Flit away before kids like you prod at the petals.

                    R
                     e
                     s
                     t
                     i
                    n
                   g.

A waterfall babbles nearby,
as a butterfly sticks to overhead glass.
Fingers alllmossst there,
but it's just out of reach.
Dr i
        f 
           t 
              i 
                n 
                   g.
There! One flees from the flock.
Iridescent wings glitter in the light,
as it drifts down, down, down.
Old eyes watch as it comes straight for you.
Landing.
Tiny legs rest on the tip of your frail finger.
Delicate, opalescent wings
flutter softer than eyelashes.
With a sudden flicker, it's gone.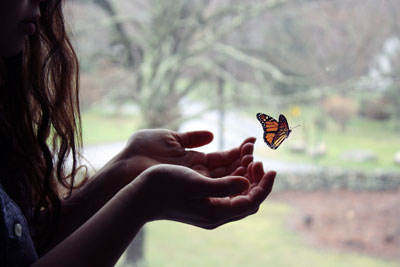 © Sandy H., Woodbridge, CT