Just Under The Surface
November 17, 2017
Worn white sneakers
Traverse across dry oak.
The sun's rays strike my back,
The sky fills with hot smoke.
Skin tenacious with sunscreen,
I gaze around at the flat.
I feel the sweat on my neck,
And adjust my pink hat.
As we hike through the terrain,
I notice bones very near;
A decayed bison with horns,
Collapsed in its bronze gear.
Arid grass blankets the field,
Amidst multiple holes
That are all brimming with water,
Boiling hot in their bowls.
Some are crystal clear,
With others nebulous and brown.
Geysers burst into the sky,
And then plunge back down.
I draw close to the pools,
Which reek of rotten eggs.
The steam fogs up my glasses,
The hair prickles on my legs.
Rock mountains tower above me,
Dripping down like melted wax.
Their torrid basins overflow,
And water cascades through the cracks.
After hours of aching feet,
We arrive at the end of the trail.
The light melees oncoming darkness,
But is unable to prevail.
Dawn transfigures into dusk,
The sun descends behind trees,
Dark clouds charge across the sky,
And I know it is time to leave.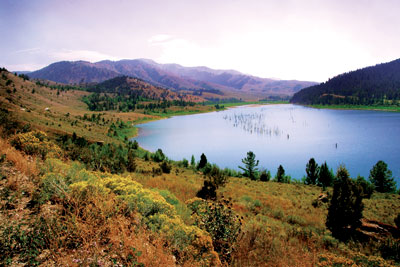 © Matt S., Glastonbury, CT