Beauchamps
November 13, 2017
You can't own a view,
But where I'm from, the rich think they can.
We'd climb the serpentine roads leading to the top of the hills as the sun bowed golden-red into the crease between two mountains,
Trying to outrun the first echo of night.
At the very top, a perfect circle of eucalyptus trees.
Perch on the rotting log transformed into a makeshift bench for us kids,
Watch the sky fade from bronze to blue to black.
We'd lean against each other as the stars glimmered above us,
A brimming basin of white lights below.
The city looks so small when you're above it.
Just us kids, full of curiosity and wonder,
As close as we could get to touching the sky.
But all that must change,
Because where I'm from, the rich think they own a view.
Flashing red and blue lights behind us,
Obnoxiously gaudy in contrast to our recent view.
Big men in blue suits, demanding our motives and groping our pockets.
We are just sitting sir, watching the ebony night envelop our city--
Don't come back here again.
Why?
Because this doesn't belong to you.
What doesn't?
The eucalyptus? The rotting log? The bowl of glowing ivory lights?
Who decides what part of nature, of skyline, of wonder belongs to whom?
We can't go back there now.
The crimson sunset, the chilly evenings, the twinkling stars above and the gleaming lights below;
The awe filling the hearts of us kids;
Our sacred spot between city and sky;
Is now owned.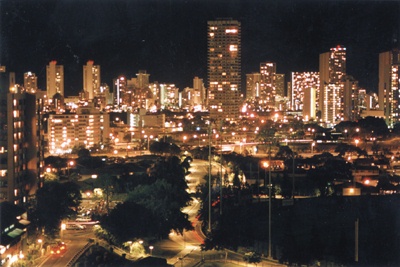 © Chris H., Honoka