Commitment
November 12, 2017
Two months ago I got a dog.
I've always wanted a dog.
Since I was old enough to write, every year for Christmas and my birthday, the top of my list would include the word dog, highlighted, underlined, and bolded. I wanted a puppy to grow up with and have a special place in my heart for. One I walked and watched run around. One I spent my summers with and watched the leaves turn colorful with. One that played in the snow and got his paws all dirty. This dog can do all of those things.

He can run and jump and play and bark and lick.
4 Months ago I was told I was moving. Within 8 weeks we were packed and moved 35 minutes away from my home, and where I go to school. It didn't feel like I moved despite the long drive because I go to school in the same town I did before.
2 years ago I got a cat.
I didn't want a cat.
I wanted a dog.
But my mom surprised me with a kitten. He was small and feisty and annoying. He bit me and scratched me and tried to escape the house a bunch of times. The vet said he would stop being so grumpy but he never did. His two-year-old self-was still as grumpy, but he did cuddle on my bed at night and had no interest in leaving the house anymore. He let me pet him and even though I forced him to love me, he knew when he needed to lay on me. He wasn't a dog, but he was more than a pet. A family member.
Home is where the heart is.
I never understood that.
Home is where you eat and sleep and do homework and spend holidays.
Or so I thought.
Two months ago I got a dog.
I don't want this dog.
And I don't love this dog.
I don't feel for this dog.
I CAN'T feel for this dog.
Maybe because he's a house, not a home.
2 months ago my cat was given away.
What I was told was temporary, turned permanent without my knowledge. Turned, is a bad choice of words because nothing turned, it had always been like that, just not told like that.
Imagine getting something that was meaningful to, have it taken away and told it will be back very soon. And then it's never spoken about again, and you're turned away when asking where it is or what happened.


Imagine taking a glass plate, getting it smashed into a million pieces and being told to put it back together, while someone throws pieces away.
That's what heartbreak feels like.
That's what pain feels like.
You never want to use a plate again.
Leave a plate out anywhere.
Or see a plate. No matter the size texture or color.
It's all too reminding.
And all too risky.
You know it will get broken again.
over and over and over.
Each time a piece is taken away.
Until you're left with no pieces to put back together.
That's what commitment feels like. 
For me, committing was quite easy.
Now, I will never fully commit to loving something again.
Because leaving my heart on something again is a risk of getting it taken away.
And I can't afford to lose any more pieces on my plate.
I've always wanted a dog.
Now I just want my heart back.
The heart strapped to the 4 legged personality that kept me alive on nights I felt worthless and alone.
And scared and helpless and weak.
Maybe 3 years ago I would've thought that to be a dog.
But anything can become a strength
And for me, it was my cat.
My cat that loved me,
and even though I can't see him.
He tugs down at my tears and heart every night.
Home is where the heart and commitment is.
And neither is complete.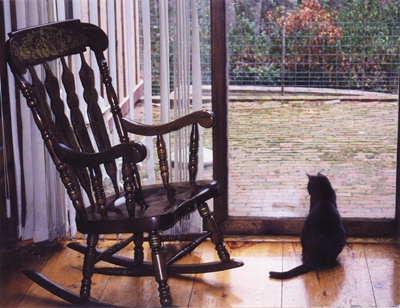 © Elizabeth S., Manomet, MA