Looking Over the Edge of the World
October 19, 2017
Walking for miles with no shoes, blood leaving a breadcrumb trail behind her
She stumbled and hung her head, before setting out again.
In the distance, she could see her destination,
And with a final step, she was there.
Looking over the edge of the world, seeing her life in reels flickering past.
Memories, good and bad, ignited her eyes and broke her heart.
Leaving them behind all to escape the demons following.
She was out of time, the approaching darkness told her that much.
A deep breath followed by a hair-raising scream,
Gave her the courage to push, falling past her life,
Into the void that numbed her brain.
The wonderful cold held her tight but was interrupted by her mother's cries and father screams.
The slamming casket and falling dirt locked her up, cutting off the noise.
The demons saw her fall off the edge of the world,
Now they push her family towards it.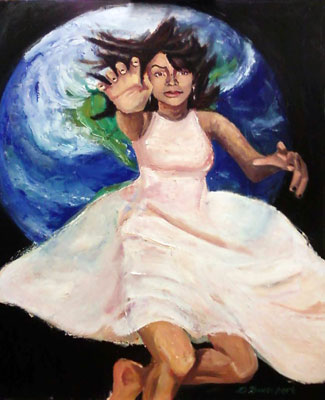 © Dominique D., Ozone Park, NY