The Act
July 23, 2017
A swallowing glimmer bounces off
The eye---
Twined with scarlet fibers
Crested stain and miniscule knot.
It makes sense to me---
An artisan, able bodied
Armed with nothing more,
Like a lustful lion,
I focus through my prey,
Too many calculations,
Precision not dominate.
Only for now as I awaken
Flesh.
A slight tug and it's through
My first medal rests the bottom
Right of my perspiring palm.
And again; now familiar
Piercing gives me such a power.
Makes me godlike and divine-
A crafter of the mad.
Dents like pin heads are raised
Dancing patterns
I'd say I'd have a skill
Rather twisted---
Like the thread in skin.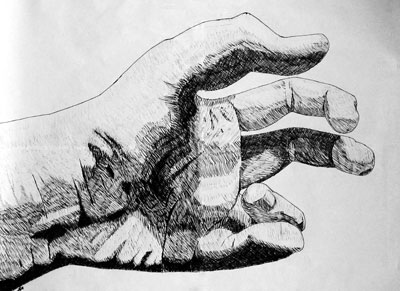 © Luke S., Montclair, NJ