Second Chances
March 16, 2017
We were raised being told we could be anything we wanted to be.
We were smart enough,
Brave enough,
Tough enough.
We grew up in a world where being
Doctors,
Engineers,
And chemists,
Is not only accepted but expected.
We grew up in a time where the
Authors,
Musicians,
And soldiers,
Are overlooked because their bravery was shaped differently than ours.
We live in a world where modern heartbreak is read at 9:03
And it's 9:46.
It's blocking and unblocking and blocking again.
It's sending the 'Hey just checking in' text with no response.
We live in a world where you are either public poetry,
Or invisible.
You are read,
Touched,
And looked at,
Or you are pushed and shoved to the back of the room where you try and hide beind your despondency and choke down another handful of pain pills to make the hurt
Stop.
We live in a time where people want to kill themselves and they are getting yelled at about
Dirty dishes...
We live in a society where being scared is looked down upon,
The same way high school virgins and successful independant women are.
Where being loud is aggravating,
And being quiet is conceited.
It's a time where happy relationships are artificial and heartbreak is romanticized.
We exist in a world of one and done,
And honey it's time for second chances, it's time to reshape the world.
I mean do not get me wrong,
You don't have to be friends with everyone you forgive, and you don't have to forgive everyone that hurt you, but we should take having an open mind as a
Suggestion,
Instead of just a phrase.
We exist in a time where you've got to watch what you say because we are easily offended,
Yet no one can keep their mouth shut.
Where individuality is just something we read about because everyone is wearing the same fake smile,
And one thing i've learned is that taking cough syrup when you don't have a cold,
Makes you sicker than you ever would've thought.
This is our second chance.
Our chance to appreciate
The authors, who patch their hurt with poems instead of vodka.
The musicians, who cry through lyrics.
Our chance to say thank you to our soldiers,
Who live, fight, and die for you.
Soldiers who die nameless so that we can be
Doctors,
Engineers,
And chemists.
But the truth is that doctors die unsaved,
Most authors are never published,
And some musicians are never hears.
So yeah, you may have a lover wherever you go.
But sooner or late?
We all sleep alone.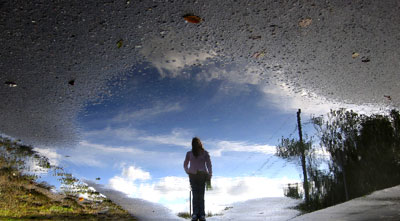 © Daniel H., Oak Bluffs, MA