Happiness
February 10, 2017
We walked up the hill
passing the cabins one by one
as the dead pine needles cracked
as we stepped over them. The air filled
with a freshness the summer's day embodies.
We walked into the horseshoe
with the sun gleaming off the glistening grass--
the dew stronger than usual. I kicked a frisbee
resting on the ground
and watched it roll
down the hill
hoping that it wouldn't end up in the forest.
The forest was thick
with some sections that were thin--
all flora different shades of green.
I looked ahead and saw
a frog frantically
hopping away from us.
We walked past the courts
and saw the small puddles turning into steam.
It was mysterious yet mystical
watching the vapor rise to who knows where.
A few basketballs lay there
damp from the night.
We walked on the trail
and were surrounded by all the trees
towering over us like giants.
Dead leaves covered the ground
even though fall was not close.
They crackled with each step
until we were off of the trail.
We walked onto the field later that night
looking up at the endless sky
with stars scattered all over it.
We all sat there on the ground
looking up as shooting stars shot across the galaxy.
We sat there thinking about the past
and realized that it was all over.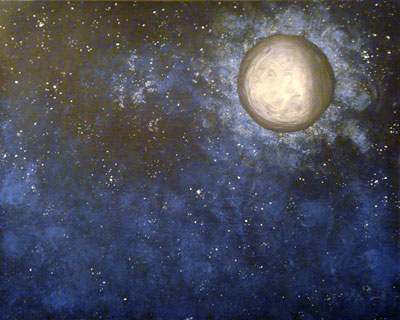 © Allison H., Vancouver, WA